Gizo, Western Province

With six larger islands and several hundred smaller ones, working out how to get around the Solomon Islands might seem daunting at first. Luckily we've put together a guide for visitors to our island nation below, starting from some of the more popular locations you'd arrive in.
Honiara
Honiara is the capital of the Solomon Islands and is located on Guadalcanal Island. Honiara has domestic and international airports and is the jumping point for all of your travel within the Solomons.
From Honiara, there are regular domestic flights to 20 destinations within the Solomons and it is the starting point for many live-aboard tours and boat trips from the harbour at Point Cruz.
If you're staying in Honiara, the international airport is about 11km from the city area. Your hotel can organise an airport transfer for you or taxi's are readily available. There aren't meters in the taxis in Honiara so make sure you agree your price before getting in.
There are lots of things to see and do in Honiara. You can hire a car and drive yourself or there are organised tours that you may prefer. Some highlights in Honiara include:
Battlefield tours (visiting Vilu War Museum, the American War Memorial, the Japanese War Memorial and other significant WWII sites such as Bloody Ridge and Red Beach)
There are lots of hikes to do from Honiara to waterfalls and jungles (link to Hike section)
Bonegi Beach: whether you prefer a picnic or BBQ on the beach or go wreck diving, this beach close to Honiara and is a great place to swim and relax
Iron Bottom Sound: the scene of some of WWII's biggest battles. This channel just off Honiara is the resting place for over 50 warships and fighter planes. Fantastic wreck diving.
Western Province
The most popular part of the Solomons for tourist is the Western Province. This is where most travellers snorkel, dive and relax. Key areas in the Western Province are:
Munda
Munda is the largest community on the island of New Georgia and is on the southwestern tip. Roviana Lagoon is just offshore and is great primarily for diving & snorkelling.
Solomon Airlines has daily flights from Honiara to Munda and flight time is approximately 1 hour. Any resorts that are not on the mainland will organise boat transfers for you. Taxis and buses are available for travel around Munda.
Gizo
Gizo is the capital of the Western Province and is the second largest town in the Solomon Islands. Gizo is on Ghizo Island and is a great destination for relaxing on the beach, snorkelling and diving. If you stay at accommodation near Gizo, your accommodation provider can arrange a boat transfer for you. Boats can be easily hired to get around.
Gizo is approximately 1-2 hours from Munda by boat and about 15 minutes by air. We have daily flights from Honiara to Gizo which take approximately 1 hour and daily flights between Gizo and Munda.
Seghe
If you want to travel to the beautiful Morovo Lagoon, then you need to travel to Seghe on the south-eastern tip of New Georgia. Tourists travel to this part of the world to relax, snorkel, dive, kayak, fish and hike. The flight is about 1 hour from Honiara and the airstrip is made of crushed coral. Your accommodation provider will organise your boat transfer to your hotel.
Other destinations in the Solomons
Solomon Airlines travels to 20 destinations in the Solomons so we're sure to be able to get you close to your destination.
Location
Gizo is the capital of the Western Province and is the second largest town in the Solomon Islands. Gizo has a small landing strip on the nearby island of Nusatupe to the north east of the town, making it relatively developed compared to other settlements in the general area.
Gizo is situated on Ghizo Island approximately 380 kilometres west-northwest of the capital of the Solomon Islands, Honiara, and is just southwest of the larger island of Kolombangara. Gizo is located beside Ghizo Island's only sea port and is only a five minute boat ride away from Solomon Airline's domestic airport which offers daily flights connecting to Solomon Islands capital, Honiara. The flight from the capital takes about one and a half hours.
Aircraft:
Dash 8 (DH8-102), Twin otter (DH6), Islander (BN2)
Aircraft Transfer:
Transfers from Gizo Airport are available by boat at $100 per person (subject to change), and Gizo Hotel guests have complimentary transfers.
Population:
Western province: 81,214 (2010 census estimates)
Main Industry:
The main industries for Gizo are tourism, and the local produce market.
Health Care:
Gizo Hospital - Phone: +677 60 224
Police:
RSIP (Royal Solomon Islands Police) and RAMSI presence in Gizo - Phone: (+677) 60966
Main Transport:
Main transport options include a boat or by vehicle on Gizo itself. There are also a number of taxi services in Gizo.
Internet:
Broadband and dial-up services are available in Gizo.
Mobile phones:
Mobile phones and SIM cards are available from the Telekom office in Gizo.
ATMs:
ANZ Bank in Gizo has an ATM with Cirrus and Maestro.
Tours and Activities
Dive at Gizo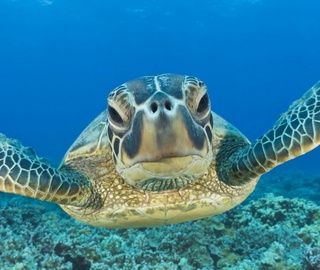 There are over 15 world class dive sites around the Gizo area ranging from manta ray dives, coral dives, and famous World War II relics including the renowned Toa Maru No. 2 Dive plus a host of Japanese and American fighter planes dive sites.
Surf at Gizo
Great breaks can be found off Gizo, including Paelonge which can be easily reached with a short paddle from Gizo village. The best time for surf in Gizo is between November and April.
Fishing in Gizo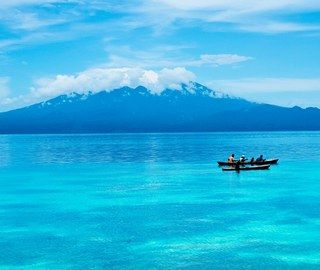 Some of the best fishing grounds in the Pacific are no more than 30 minutes by outboard motor from Gizo.
Attractions
Plum Pudding / Kennedy Island
An island shaped like a plum pudding, named after JFK, former president of the USA who swam ashore after his Torpedo boat (PT109) got rammed off the coast of Gizo Island by a Japanese destroyer. JFK carved a message into a coconut from Plum Pudding which was delivered by locals to the Coast Watch Commander Evans in nearby Vona Vona. It read "Naru isl/native knows posit/he can pilot/11 alive/need small boat/Kennedy".
Hiking in Gizo
Kolombangara is a dormant or semi-extinct volcano last active around 10,000 years ago. Climb one of Kolombangara Island's mountains to experience panoramic views across Gizo and the Vona Vona lagoon.
Imbu Rano Lodge
The amazing biodiverstity surrounding Imbu Rano Lodge guarantees a unique and relaxing experience. Located inland, overlooking the valleys leading to Mt Rano's crater on Kolombangara Island, Imbu Rano Lodge provides birdwatchers and nature devotees easy access to upland forests and its amazing flora and fauna.