About the Solomon Islands - The Happy Isles

Looking for information about the Solomon Islands? Located between Papua New Guinea and Vanuatu is an archipelago of 992 magical islands - the Happy Isles.
This virtually untouched archipelago is a beautiful destination with something to suit everyone. Whether it's diving, relaxation, surfing, fishing, trekking or maybe you're a history buff – you're sure to find somewhere in the Solomon Islands to suit. And the great news is that they're still relatively undiscovered so the Solomons are perfect if you're looking to get off the beaten track.
Your gateway to the Solomon Islands is likely to be the international airport in the capital - Honiara. You may be surprised to see the rugged, mountainous rainforest covered island on descent. From Honiara, it's easy to connect to 20 domestic airports or maybe you'll join a liveaboard to sail through the islands instead.
There are 9 main island groups in the Solomon Islands and they were of significant importance during World War II. The remnants of the fierce campaign for control of Guadalcanal are now above and below the water, providing travellers with exciting hiking opportunities and a paradise for wreck divers.
We don't have high-rise hotels, international hotels, fast-food chains or luxury shopping in the Solomons. What we do have is an island paradise with crystal-clear water, a slower pace of life and the opportunity to reconnect with nature and the people around you. We are a bit 'off the beaten track' so ideally suited to the eco-traveller who likes clean and comfortable accommodation without too much fuss.
The climate is tropical with an average temperature of around 27 degrees. June, July & August are slightly cooler and the wet season is from November until April. English is the official language of the Solomon Islands but there are many different languages spoken – Pijin is the most widely used.
There's also lots of information on the Tourism Solomons website.
Come and visit us!
Tours and Activities
Diving and Snorkelling in Seghe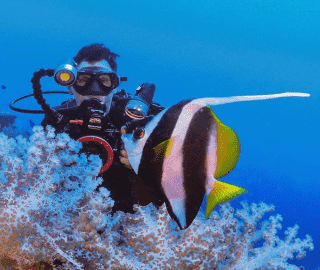 www.uepi.com
Some of the most outstanding diving in the world, the perfect water clarity puts vibrant coloured corals, a multitude of marine life and outstanding wrecks on display. Learn to dive, join a snorkelling excursion or simply step off the pier into the beautiful lagoon.
Sea Kayaking in Seghe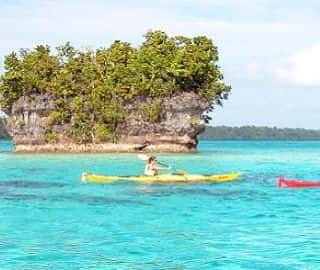 www.uepi.com
If you have a taste for adventure then try kayaking. There are a few destinations just a paddle away, each with their own challenges. On the river expect some small rapids and for those wanting a more relaxed route, head to the lagoon.
Island Excursions from Munda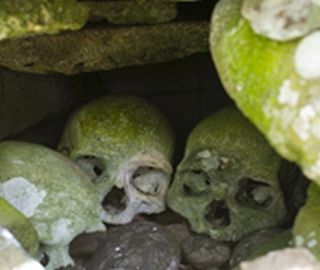 www.zipolohabu.com.sb
Explore the reef, lagoon and islands such as Bikiki Island, Mantaray Island and the famous Skull Island. Enjoy a swim, snorkel or fishing and a picnic or bbq can be arranged. Soak up history or the sun, whatever your preference.
Surfing in Suavanao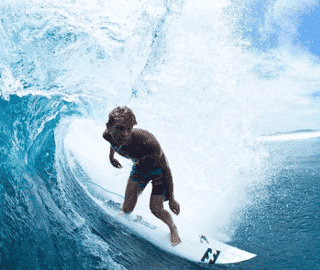 www.papatura.com
There are waves for all levels of surfing enthusiast with some great local breaks that are consistent all year. The best time for surf is between November and April when you can expect up to six foot waves.
Birdwatching in Kirakira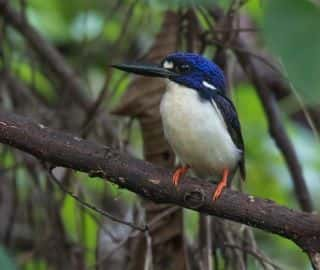 www.solhols.com
Makira Island is home to the most endemic species in the Solomon Islands. Trails around Kirakira are easily accessible for most. A long and steep trek to the Hauta Conservation area and inland mountains, staying in nearby villages on the way, will delight serious birders with species such as the Makira Thrush, Makira Leaf Warbler, Shade Warbler, Whiteheaded Fruit Dove.
Boating in Tulagi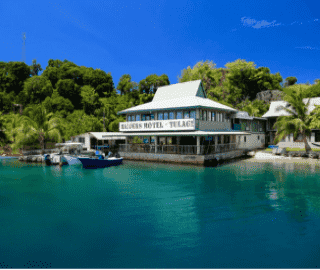 raidershotel.com
The Florida Islands is a magical place to traverse with Tulagi the main place to anchor. There is a deep all weather harbour in the area that offers safe anchorage from winds and swells. As the sea and reefs within 200 metres of the shoreline are owned by the local villages based on a subsistence lifestyle, you will need to either pay a kastom (cultural) fee, purchase items from them or barter with goods onboard.
Snorkelling and Diving in Munda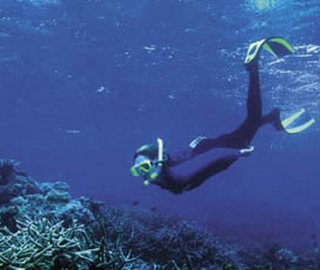 www.divemunda.com
Munda has beautiful clear water and a variety of marine life to explore, making it perfect for snorkelling and diving. The seabed is scattered with wrecks from World War II that have developed into gorgeous artificial reefs, with fighter planes, bombers, a Japanese Freighter, and a US dumpsite.
Fishing in Munda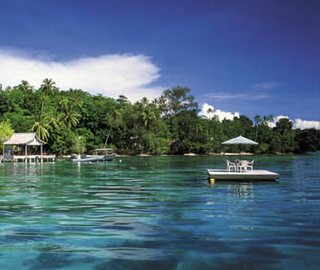 www.zipolohabu.com.sb
The Munda area offers a unique diversity of fishing from saltwater fly, to deep sea fishing. Whether you want to troll for Spanish Mackerel, Sailfish and Marlin or bottom-fish for Coral Trout and Rosy Jobfish, the fishing grounds of the Munda area are unequaled, for beginners and sports fishing.
Surfing in Munda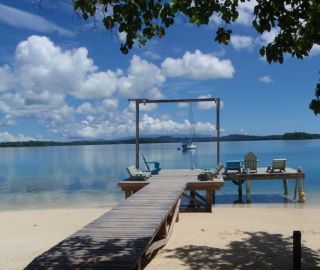 www.zipolohabu.com.sb
See some of the most exhilarating surf breaks in the Solomon Islands. The nearest surfing to Munda is at Lola Island in Vona Vona Lagoon. Lola Island is located 11 kms from Munda and has three surf breaks.
Birdwatching in Fera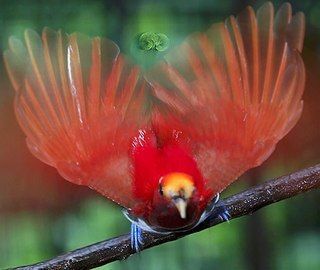 www.flysolomons.com
Fera is the perfect starting point for birdwatchers, before they make the trip up the hills to seek out the Black-faced Pitta, Fearful Owl or Solomons Frogmouth. Other species that can be seen include the Imitator Goshawk, Sanford's Sea-eagle, Woodford Rail, Solomon Boobook and Myzomela. Read more at the link.
Battlefield tours in Honiara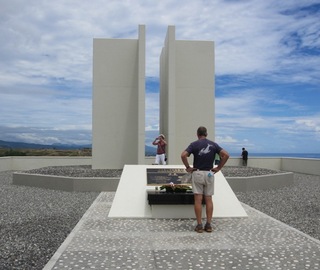 www.visitsolomons.com.sb
Some of the most brutal World War II battles took place on the northern face of Guadalcanal. Visit Bloody Ridge, Red Beach, the Vilu War Museum, Betikama school relics, the American War Memorial, Tetere beach, The Thin Red Line, Honiara golf course (previously a US Airstrip), and the Japanese War Memorial (Mt Austen). Tours of both the Western Battlefield and Eastern Battlefield are also available.
Wildlife on Rennell Island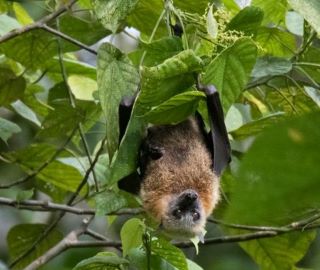 A nature paradise and home to several endemic species, including the Rennell Starling, the Bare-eyed White-eye, the Rennell Shrikebill and the Rennell Fantail. The province also has 730 insect species, an endemic orchid near Lake Tegano, two endemic species of Pandanus, the Rennell flying fox and an endemic lake sea snake.