Take a trip to Temotu Province
Adorned by a natural pristine environment and with rich cultural values, history, and beautiful, friendly people. Temotu Province is the easternmost province of the Solomon Islands.
TEMOTU PROVINCE
The province consists of, Nendo (Santa Islands) Vanikoro, Utupua, Duff, Tikopia, Anuta, Reef Islands, and the atoll islands of Pileni, Matema, Nukapu, and Nupani. The province is also known as the home of the most active volcano in the country, Tinakula which lies to the north of Santa Cruz Island.

Photo credit: Tourism Solomons
HISTORICAL SITES
The province's rich history boasts many wonderful stories. It was here that Spanish explorer Alvaro de Mendana y Niera entered the Solomon Islands on his misguided search for Terra Australis, two of the ships, L'Astrolabe and La Boussole in the fleet led French explorer Jean-Francois de Galaup, the Comte de La Perouse was shipwrecked here, pottery shards dating back to 1500 BC were found in these islands and the Solomon Islands' first saint, Melanesian bishop, John Coleridge Patteson, who is still celebrated in Anglican churches as a martyr, met his end on the island of Nukapu.
PEOPLE
The people of Temotu are of Melanesian and Polynesian heritage, the Melanesians occupying the bigger islands while the Polynesians took to the smaller atolls and islands where their descendants live today.
Interestingly, you come to find a large number of elderly people still going about their daily life. Some are more than 90 years old and they say the secret of their longevity has always been about living simply, being happy, and eating healthy food cooked on open fires (bonebone).
The high volcanic islands feature lush tropical rainforests with natural springs and pools which hold great appeal on a hot sunny day.
The unspoiled Reef Islands and Atolls are totally off the beaten track with beautiful white sandy beaches and swaying palms.

Photo credit: Tourism Solomons
DIVING
Temotu province offers some of the remotest dive sites in the world with diving taking place off Narando Island Resort in the Reef Islands. Wall dives, drop-offs, coral gardens, and fish life all feature in a long list of spectacular dive sites that any diver would give his eye teeth to experience. Diving however needs to be prepared well in advance in terms of obtaining and preparing gear before visiting.
FISHING
The waters of the Temotu abound with fish life and offer a good opportunity for a range of fishing opportunities. Anglers can troll along countless sheer drop-offs for Spanish Mackerel, Wahoo, and Dogtooth or cast into the surf for Giant Trevally, Red Bass, and Coral Trout. And for those who would like to try their luck with more traditional means, they can try their luck with a line, a spear, a net, or even other fishing tactics the locals used to catch different types of fish. The islands being so remote and never commercially fished, you are bound to catch something most times.
SURFING
In Temotu only a few breaks have really been discovered. The best months are September to January. Kala Bay to the east from Lata, Gaito in the southeast, and Nella at the western end of Lata airport are the prime spots and offer the chance for surfers to be one of the first to surf new breaks in one of the world's last frontiers. Surfing is enjoyed more by children and done as a fun recreational activity. The children use pieces of plywood pieces or broken dugout canoes as surfboards. Wooden canoes are mostly used to ride waves. The children's endless laughter is just one reason you need to surf, even when the waves are tiny!

Photo credit: Tourism Solomons
​SNORKELLING
Snorkeling is accessible almost anywhere. Snorkel at Mola'a Point, a local marine protected area in the Reef Islands and see for yourself the abundant marine life, giants clams, and technicolour coral, and especially Dugongs which call the area home. Santa Cruz is also known for its underwater caves.
ADVENTURE
Adventures abound in Temotu Province with a seemingly endless list of things on offer – from fishing and climbing on Tinakula Island to a Luesalo Waterfall trek, Mola Beach in the Reef Islands and Luova Beach, visit Baenga Cyclone Island or Makalobu Island in the Reef Islands for its amazing white sand beach and from a cultural perspective.
BIRDWATCHING
Santa Cruz is rich in birdlife and a must-visit location for ornithologists. Endemic species include the Stanford and the Santa Cruz white eye. Tinakula is the home of the brown ground dove while on Vanikoro Island some of the endemics include the Vanikoro White Eye and the Vanikoro Monarch. Vanikoro is also known for its large number of Flying Foxes.

Photo credit: Tourism Solomons
ACCOMMODATION
There is a range of accommodation options to choose from both on Santa Cruz and on the Reef Islands ranging from resort-style to eco-family friendly accommodations. Lata offers standard motel and rest houses. Irrespective of budget travellers are well-catered to.
GETTING AROUND
Solomon Airlines operates flights regularly from Honiara to Lata (Santa Cruz) and once a week to Lomlom Airport in the Reef Islands.
While they can still be a challenge, shipping services connect to the province inter-Island hopping is mostly done via motorized canoes with 40 HP and 60 HP engines.
Taxis, Hilux, and pickup trucks provide land transport in and around Lata station and on Nendo (Santa Cruz Island).
Come and experience far eastern Solomons. A truly off-the-grid experience. Immerse yourself in true living cultures, friendly people, beautiful scenery, and delicious, healthy local cuisine.
You have to get there to experience it but the journey and experience will stay with you forever!
Tours and Activities
Reef Island Hopping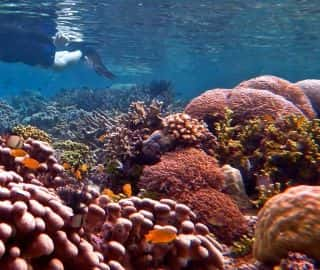 volcanolive.com
Stunning lagoons brimming with marine life, game fishing hotspots, stretches of reef, remote islands sprinkled with deserted beaches, crystalline caves, and many picturesque villages. Snorkel off the shore or for the more adventurous, explore the outer reefs and other fascinating islands by motorised canoe.
Reef Islander Life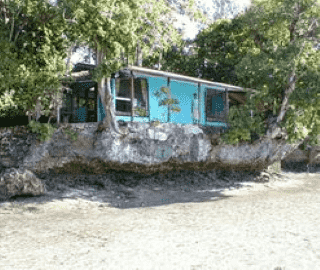 www.visitsolomons.com.sb
Enjoy the pleasure of fishing, scuba diving, bird watching, canoeing, shell collecting or exploring the fascinating cultures in the local villages. Inter-island sailing using traditional craft called the tepuke enabled Reef Islanders to trade with larger islands. Learn about the local traditions or sit under the waving palms reading a book.
Attractions
Tinakula Volcano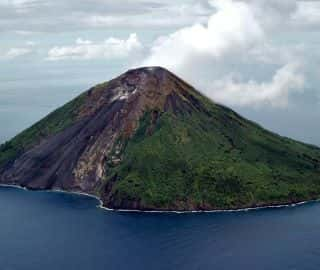 volcanolive.com
North of Nendo Island and 50 km to the west of the Reef Island group is the dormant volcano, Tinakula. Rising 2000ft from the ocean, the first recorded eruption of the volcano was in 1595 when Álvaro de Mendaña sailed past it. Periodic eruptions from the volcano are visible from the Reef Islands, and excursions are possible with a motorised boat.
Accommodation
Ngarando Island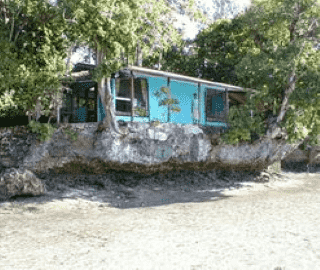 www.visitsolomons.com.sb
Escape from the hustle and bustle and explore Pigeon Island. There are basic units at the property that accommodate 6 guests in total. Experience islands hardly explored by tourism and amazing, authentic cultural encounters, reef islands, pristine waterways, marine life and white sandy beaches.
Lata Family Transit Lodge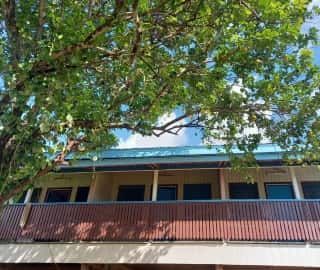 Located in the heart of Lata Town Station, just a 3-minute walk from Santa Cruz Airport, Lata Transit Family Lodge, offers simple comfort and convenience close to shops, Lata Wharf, and the hospital. Each Standard Unit has a double and single bed, with shared facilities including a kitchen, common room, toilet, and shower. Tours can be organised including to Tinakula Volcano.
Rotary Lodge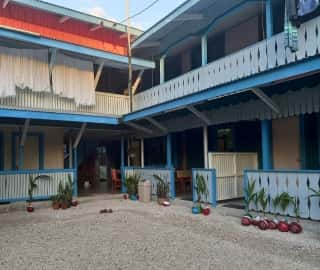 Centrally located just 2 minutes walk from Santa Cruz Airport, Rotary Lodge offers homestay accommodation with a choice of Self-contained ensuite or Standard room. Use of all communal facilities including kitchen, laundry and bathroom is included and tours can be arranged for Tinakula Volcano, snorkelling, and other sightseeing and adventure activities in the area.
Lata Travellers Motel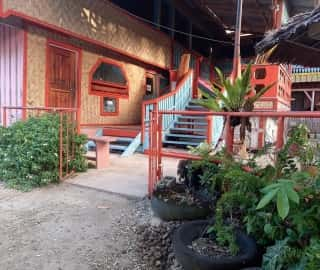 Located in Lata Station, just 5 minutes walk from Santa Cruz Airport, Lata Travellers Motel offers a welcome home to Temotu following a long flight with Self-contained units, shared self-catering kitchen facilities, and outdoor leaf huts. Local tours and sightseeing are available on arrival with local shops and market in close proximity.
Hibiscus Lodge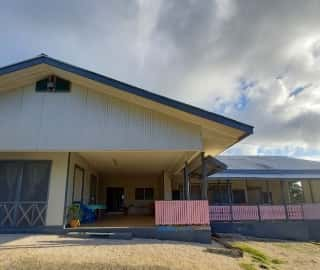 Just a 3-minute drive from Santa Cruz Airport, Hibiscus Lodge is well-located in Lata Town, offering daily housekeeping and both Air-conditioned and Standard room options. Guests have access to shared kitchen, laundry, and bathroom facilities, and activities can be organised including sightseeing at Nembo and Luovo, village walk and Tinakula Volcano adventures.