Luxury in the Solomon Islands
If your definition of luxury is waking up to the sound of the ocean, a decadent meal of fresh seafood, exploring the flora and fauna on untouched islands, or a getaway on a private liveaboard yacht, the Solomon Islands can fulfil all your luxe fantasies. Made up of more than 900 tropical islands and atolls, this South Pacific paradise offers a range of indulgent activities and accommodation. Book your tropical escape today!

For those who define luxury as lazing by the water, drinking cocktails, being pampered and eating gourmet meals, the Solomon Islands has a selection of resorts and accommodation to ensure you'll unwind, while everything is taken care of.
Scattered throughout the Solomons, from Honiara to Gizo, Santa Isabel to Marovo and across the provinces, there are different styles of resorts, private lodges and even private islands…most with stunning waterfront views!
When you really need to unwind, you'll be spoilt for choice deciding whether to stroll along white sandy beaches, sunbathe by the crystal waters while sipping a cocktail, scuba dive and snorkel, explore tropical gardens or watch the breathtaking South Pacific sunsets.
From authentic Japanese, to French fine dining or fresh seafood served waterfront, local restaurants and resort restaurants will tantalise your tastebuds.
For that extra touch of luxury, treat yourself to a spa session. Many of the resorts offer everything from massages to facials, which sure to release tension and help you settle into island life.
If your ideal luxury holiday means falling asleep at sea, with uninterrupted views of the stars and the sound of the ocean, then a holiday on the water is for you. Operators across the Solomon Islands offer a range of private yachts and boat cruises.
When cruising around the waters of the nine stunning provinces, guests will discover crystal clear lagoons, coral reefs and tropical destinations. If you do choose to explore the Solomons via boat, you have the luxury of being able to hop off to visit local villages, resorts and restaurants, or just enjoy time on your yacht.
The Western Province is made up of 11 main islands and it is considered the tourist hub of the Solomon Islands. It's the perfect place to explore from the sea, with water so clear that you'll be able to see coral and sea life from your yacht's deck. Jump in and float in the world's largest saltwater lagoon, Marovo Lagoon, which boasts beautiful aquamarine hues and is home to thousands of species of different sea life.
The Solomons is known as one of the world's best diving locations and a number of local operators specialise in scuba and snorkeling tours. Some of the most memorable and relaxing moments are under the sea, discovering the magical world beneath, full of colourful marine life and coral.
For some visitors, there is nothing more luxurious than pure serenity found only by switching off from the outside world. The islands offer a perfect getaway for those who want to explore the natural world and find luxury in the wilderness.
If the sound of rushing waterfalls appeals to you, then the Choiseul Province is the perfect match. This luscious green and mountainous island offers treks through dense forest, before arriving at some of nature's best keep secrets. This province is so untouched it remains as the home to various endangered wildlife, with tours available to see some of this exquisite flora and fauna.
More of a people person? This province is also home to many authentic local villages, filled with stories and traditions.
In the Solomon Islands you can relax, recharge and rejuvenate in the surrounds of this South Pacific gem.
Accommodation
Fatboys Resort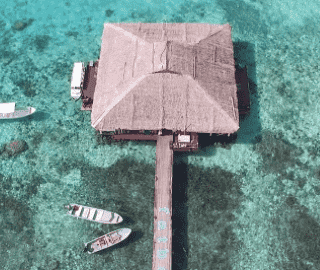 www.facebook.com
A stay at Fatboys is island living at its finest where traditional meets western style convenience. The bar, restaurant and public lounge area is 100 meters out from the island over crystal clear waters. There are bungalows for couples and accommodation that offers more versatility for families.The property is only 10 minutes boat ride from Gizo Airport.
Imagination Island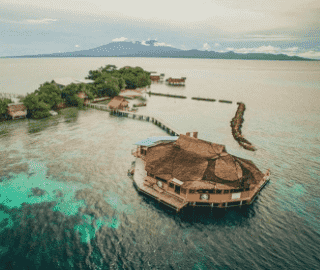 www.imaginationisland.com
The owners of the property visited Gizo and had been told that the beautiful Island in the middle of the lagoon was being taken over by the sea. They created an oasis of eco-bungalows, rooms and water activities with a fun bar and restaurant area, where you can relax in hammocks or swing in chairs. The property is only 5 minutes boat ride from Gizo Airport.
Oravae Cottage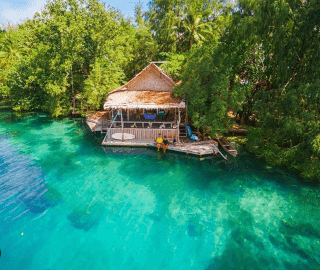 www.oravaecottage.com
Escaping to your own private island has never been easier and the team at Oravae are there to ensure that all distractions from home are forgotten. There is a main cottage and two separate bungalows that can be used for a family, close group or couple if they just want to indulge in the experience of having an island home to themselves. The island is only 10 minutes boat ride from Gizo Airport.
Uepi Island Resort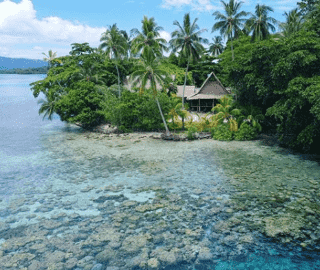 www.uepi.com
A top dive and snorkel destination globally! Uepi has so much to offer with its perfect coral formations, outstanding marine life, and beautiful natural lush jungle. The island is 2.5km long with six traditional style bungalows, two units, and two guest rooms. With a maximum of 26 guests, feel relaxed and part of the family.
Tavanipupu Spa & Wellness Retreat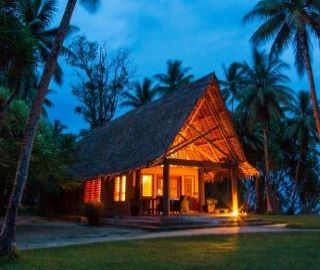 www.tavanipupu.com.sb
This quaint property boasts having had British royalty stay. The grounds are manicured to perfection and handcrafted bungalows are richly appointed with all the comforts one desires. Enjoy a relaxing massage or laze away in the crystal clear water. Tavanipupu is accessible from Marau Airport, a 25 minute flight from Honiara.
Evis Resort at Nggatirana Island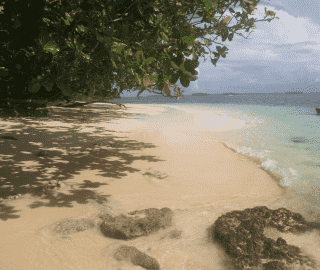 evisresort.com
In the Nano and Marovo Lagoons with only a handful of bungalows amongst swaying palm trees and sandy beaches, this private experience is one you'll never forget. The bungalows and restaurant all have modern facilities and views of the lagoon. Activities are arranged by the friendly staff.
Bilikiki Cruises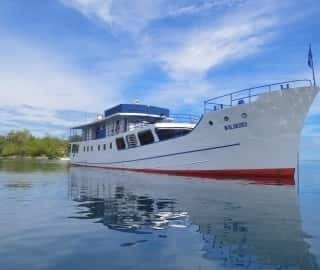 www.bilikiki.com
Visit a range of rarely visited dive sites, during an exclusive 7 or 10-night liveaboard cruise with Bilikiki. Visit the Russell Islands, Mary Island, and the Florida Islands to dive spectacular reefs and discover the natural diversity and the traditional village life the Solomon Islands are renown for, in absolute comfort.
Sanbis Resort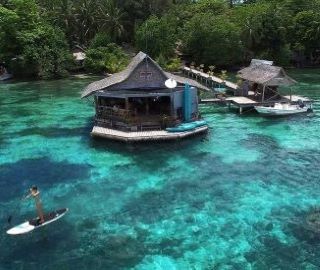 www.sanbisresort.com
After just a 7 minute boat ride from Gizo Airport you will arrive to warm smiles and a well stocked bar on the dock. Each traditional style bungalow has its own private beach with stunning views across the lagoon. Whether you try the numerous water sports on offer or just relax there will be no escaping the beauty of Sanbis.
Papatura Island Retreat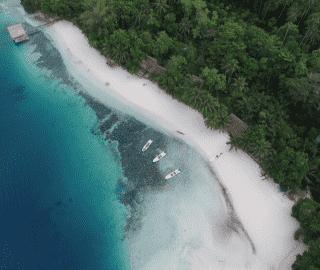 www.papatura.com
Enjoy Papatura Island Retreat, Solomon's oldest holiday destination and Santa Isabel's first world standard tourism project. Relax in your beachfront bungalow with warm tropical waters lapping the white sand beach on metres from your deck. Papatura boasts excellent fishing and awesome surfing, world class reefs for snorkelling, some great tropical rainforest walks and a true culture experience unspoilt by mass tourism. Papatura Island Retreat is your island getaway and is quickly being known as one of the Pacific's most sought after secret spots to step off the map and leave behind the worries of the modern world. Pure isolation.