Romance & Couples Getaways in the Solomon Islands

Looking for a couple's holiday in paradise? If you want to get away with that special someone in your life, the Solomon Islands is the perfect setting for a romantic getaway.
For an escape with a difference, the Solomons are not on the tourist trail so you will have an unspoilt private paradise where you and your loved one can really relax and unwind.
With almost 1,000 islands, you're sure to find the perfect spot – from your own private island to your own beachside bungalow in a small resort there will be the perfect place for you to have a romantic escape with a difference.
Things to do
Pack your snorkel gear (or hire it when you arrive), your walking shoes and your camera. The Solomons are perfect if you prefer a natural adventure or if you just want to relax. Have a cup of coffee on the deck and watch the sun rise, swing in a hammock and relax, or snorkel during the day and have a romantic dinner by the water at dusk.
If you prefer a more adventurous break, we have the most amazing dive sites for you to explore. You can also start your day with a sunrise kayak where you might meet a pod of dolphins.
Honeymoons and Weddings
There are a few places in the Solomons that you can retreat for your post-wedding holiday or have a destination wedding with a difference. If you prefer an intimate occasion with an eco-focus then the Solomons has the perfect spot for you. Think white sand, turquoise water, no shoes and perhaps your own private island for you and your guests.
Download Romance tourism information from Tourism Solomons
Accommodation
Fatboys Resort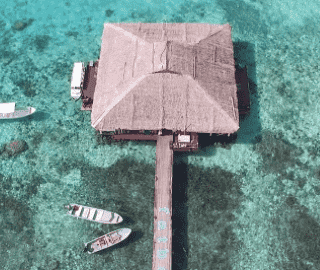 www.facebook.com
A stay at Fatboys is island living at its finest where traditional meets western style convenience. The bar, restaurant and public lounge area is 100 meters out from the island over crystal clear waters. There are bungalows for couples and accommodation that offers more versatility for families.The property is only 10 minutes boat ride from Gizo Airport.
Imagination Island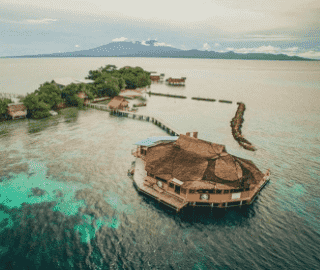 www.imaginationisland.com
The owners of the property visited Gizo and had been told that the beautiful Island in the middle of the lagoon was being taken over by the sea. They created an oasis of eco-bungalows, rooms and water activities with a fun bar and restaurant area, where you can relax in hammocks or swing in chairs. The property is only 5 minutes boat ride from Gizo Airport.
Oravae Cottage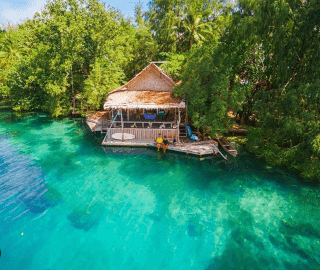 www.oravaecottage.com
Escaping to your own private island has never been easier and the team at Oravae are there to ensure that all distractions from home are forgotten. There is a main cottage and two separate bungalows that can be used for a family, close group or couple if they just want to indulge in the experience of having an island home to themselves. The island is only 10 minutes boat ride from Gizo Airport.
Zipolo Habu Resort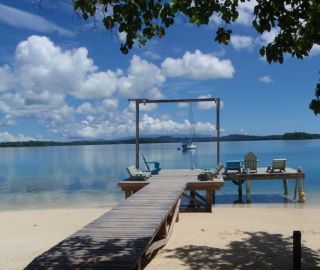 www.zipolohabu.com.sb
On Lola Island in Vona Vona Lagoon, 35 minutes boat ride from Munda, the resort is surrounded by tranquil turquoise waters, swaying tall palm trees, and white sandy beaches. Zipolo is known for sports fishing however activities can be arranged such as surfing, diving, tours of Munda and local attractions. There are varying traditional accommodation styles that provide an authentic island living experience.
Uepi Island Resort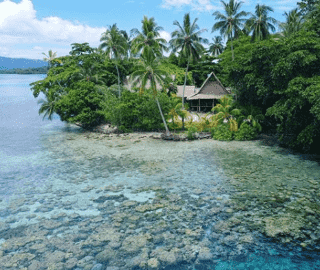 www.uepi.com
A top dive and snorkel destination globally! Uepi has so much to offer with its perfect coral formations, outstanding marine life, and beautiful natural lush jungle. The island is 2.5km long with six traditional style bungalows, two units, and two guest rooms. With a maximum of 26 guests, feel relaxed and part of the family.
Tavanipupu Spa & Wellness Retreat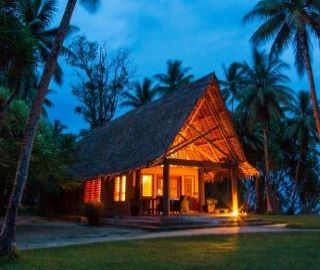 www.tavanipupu.com.sb
This quaint property boasts having had British royalty stay. The grounds are manicured to perfection and handcrafted bungalows are richly appointed with all the comforts one desires. Enjoy a relaxing massage or laze away in the crystal clear water. Tavanipupu is accessible from Marau Airport, a 25 minute flight from Honiara.
Evis Resort at Nggatirana Island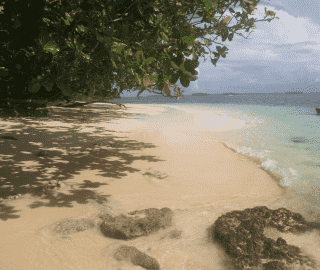 evisresort.com
In the Nano and Marovo Lagoons with only a handful of bungalows amongst swaying palm trees and sandy beaches, this private experience is one you'll never forget. The bungalows and restaurant all have modern facilities and views of the lagoon. Activities are arranged by the friendly staff.
Minado Eco Lodge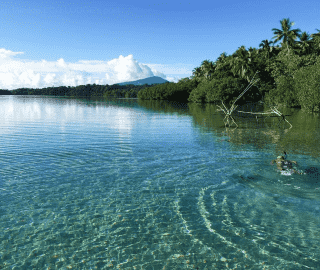 www.facebook.com
Surrounded by beautiful reefs this property is ideally located to ensure you have the best experience whilst visiting the Solomon Islands. From the airport it's a 90-minute boat ride to crystal clear turquoise waters, white sandy beaches, and lush tropical jungle, ripe for an amazing adventure.
Vavaghio Guest House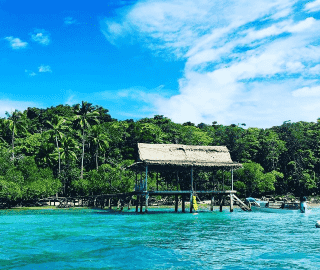 www.facebook.com
This remote island getaway is picture perfect and made for those that want to relax, surf, snorkel, or visit the Arnavon Community Marine Protection area in which you can learn about turtle conservation, dig for Megapode eggs, swim amongst amazing corals and go on cultural heritage tours.
Sanbis Resort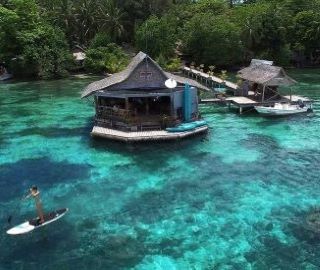 www.sanbisresort.com
After just a 7 minute boat ride from Gizo Airport you will arrive to warm smiles and a well stocked bar on the dock. Each traditional style bungalow has its own private beach with stunning views across the lagoon. Whether you try the numerous water sports on offer or just relax there will be no escaping the beauty of Sanbis.
Aotaha Cave Lodge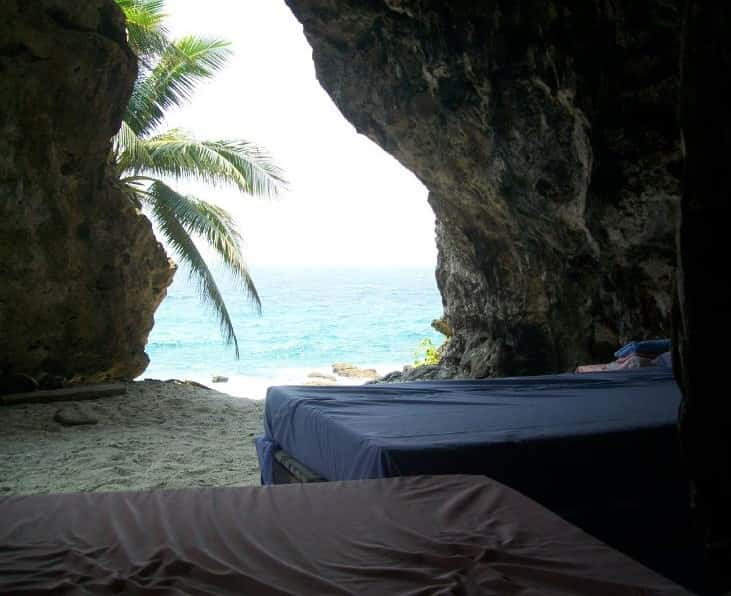 aotaha.wordpress.com
Come and stay in a place where time stops. Aotaha is a fascinating cave located on the foot of the highest point of Bellona Island. Its a refreshingly different experience for those with an adventurous spirit. The on-site accommodation is basic however includes meals and the experience is truly unique, peaceful and off the tourist trail.
Papatura Island Retreat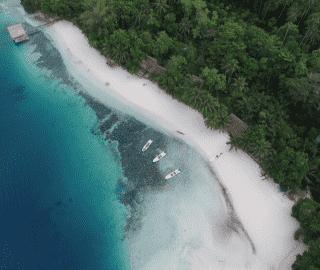 www.papatura.com
Enjoy Papatura Island Retreat, Solomon's oldest holiday destination and Santa Isabel's first world standard tourism project. Relax in your beachfront bungalow with warm tropical waters lapping the white sand beach on metres from your deck. Papatura boasts excellent fishing and awesome surfing, world class reefs for snorkelling, some great tropical rainforest walks and a true culture experience unspoilt by mass tourism. Papatura Island Retreat is your island getaway and is quickly being known as one of the Pacific's most sought after secret spots to step off the map and leave behind the worries of the modern world. Pure isolation.