10 Reasons To Fly to the Solomon Islands
Waiting to be discovered in the picturesque Pacific Ocean is the untouched Solomon Islands, ready with welcome arms for you to explore and immerse yourself amongst its history, culture and traditions of this beautiful island paradise.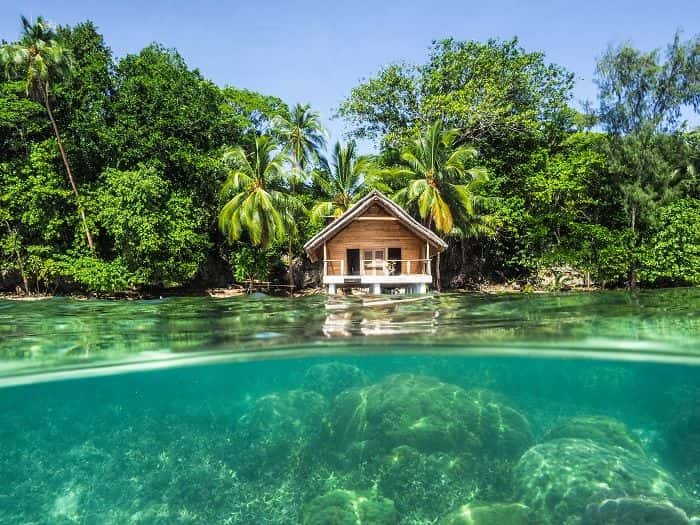 While we think there are thousands of reasons to make Solomon Islands your next idyllic holiday destination, we narrowed it down to our top 10 favourite reasons to go:
1. It's an unexpectedly untouched sliver of the world
Picture surf breaks, coral reefs and beaches without crowds or disruption. The Solomon Islands are full of tranquil spots that will take your breath away. It's a great way to make all your Instagram friends jealous with photos of white sand, turquoise beaches and diving spots that are second to none.
2. Step back in time and uncover the fascinating history
The Solomon Islands, also known as Guadalcanal where the famous Battle of Guadalcanal took place (or for you real history buffs, codenamed Operation Watchtower) are steeped in a rich and fascinating hidden history.
It's a hidden history set against the backdrop of paradise. Discover amazing WWII relics, explore diving wrecks that time seems to have forgotten and swim in the waters that John F. Kennedy himself fought and got rescued in.
3. Immerse yourself in tradition
As you relax into the true island spirit, stop and listen to the trancing sound of the slit drum and panpipes. Local materials traditionally make up these instruments along with the skilfully woven baskets, hand carved wooden artefacts & threaded shell beaded jewellery.
Explore the island further and you will discover ceremonial shrines where human skulls and other traditional pieces are set in place as offerings. The local culture will wrap you up and enrich your time on the Islands.
4. Live like a local and shop the markets
Central Markets are an explosion for the senses, with colourfully clad woman and the smell of freshly caught fish, and locally grown fruit and vegetable. This must do is also a great spot to find traditional Solomon craft.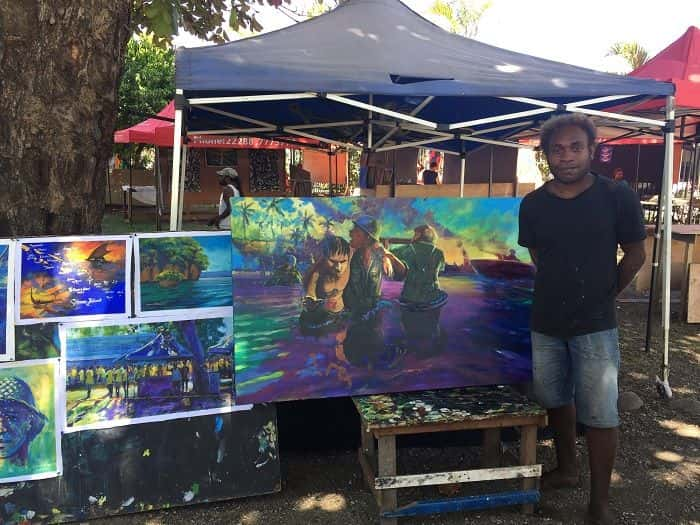 5. Wander into the wildlife
Step away from the beaches and get lost amongst the picturesque tropical vegetation, home to some of a unique wildlife and plants. With new species being discovered all the time, look for yourself, who knows what you might discover. The Solomon Islands is a wonderland for walking and exploring!
6. Dive deep to discover
Discover some of the world's most unspoilt dive sites in the World, with world class diving year-round this underwater Garden of Eden, is worth suiting up for. Some of our favourite dive spots include Bilikiki and Blue Pyjamas – with the latter being great for snorkelling too!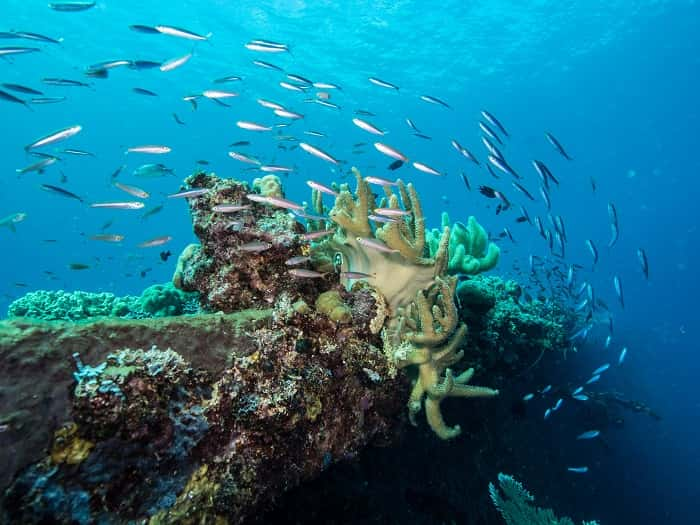 7. Chasing waterfalls
Mataniko & Tenaru Falls are only a day hike away, walk through the tropical wonderland to uncover lush natural pools perfect for a refreshing dip. Guides are available to enrich the journey, contact Tourism Solomons for information or channel your inner explorer and get going.
8. Catch the perfect break
Surfing the crystal-clear breaks of the Solomon Islands, are a treat like no other. These uncrowded world class waves are a plenty, either accessed by foot, a short paddle or a quick boat trip away. Chat with the friendly locals to find the perfect wave.
9. Romance the one you love
Imagine complete tranquillity while you relax with the one you love. The Solomon Islands offers the perfect romantic escape with a difference, whether it be a Romantic Getaway or a Honeymoon be sure to pack a bottle of champagne and your snorkel gear.
10. Just a short flight away
One of our favourite reasons to visit the Solomon Islands is its one meal, one flight away from Brisbane, Australia! So, pack your bags, grab your friend or loved one and jump on over!
Attractions
Arnavon Islands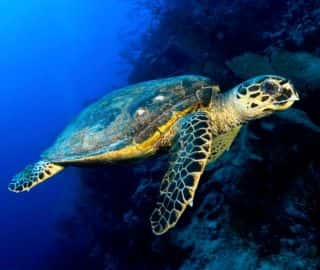 www.arnavons.com
Located between Isabel and Choiseul Province, these four small islands are home to the largest rookery of the critically endangered Hawksbill turtles in the South Pacific. The Arnavon Community Marine Conservation Area was established to protect the remaining Hawksbill turtle population. Learn more about the turtles, swim, snorkel, relax or take a cultural tour.
Tinakula Volcano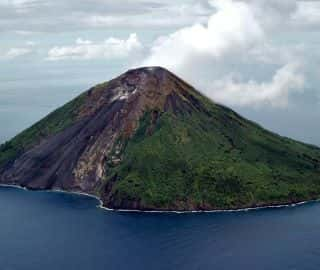 volcanolive.com
North of Nendo Island and 50 km to the west of the Reef Island group is the dormant volcano, Tinakula. Rising 2000ft from the ocean, the first recorded eruption of the volcano was in 1595 when Álvaro de Mendaña sailed past it. Periodic eruptions from the volcano are visible from the Reef Islands, and excursions are possible with a motorised boat.
Peter Joseph WWII Museum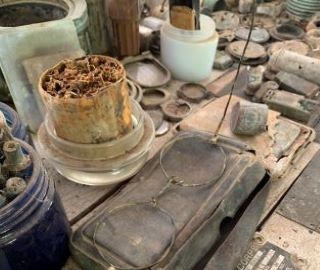 www.facebook.com
During World War II, Munda was a vital military airfield base and remnants are scattered throughout the region. You can visit two small private museums of WWII relics. One is the Peter Joseph WWII Museum and the other is further east. Both are walkable from Agnes Gateway Hotel and accommodation in town or easily accessible by taxi.
Skull Island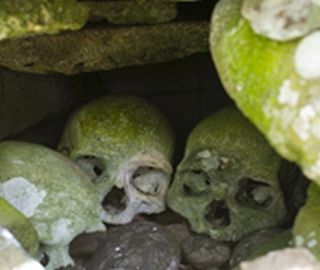 www.visitsolomons.com.sb
Located near the mouth of the stunning Vona Vona lagoon, Skull Island is one of the most sacred places in the Munda region. Skull Island features a shrine containing the skulls of Roviana chiefs and warriors from when headhunting was customary, and an altar to the local fishing gods.
Kennedy Island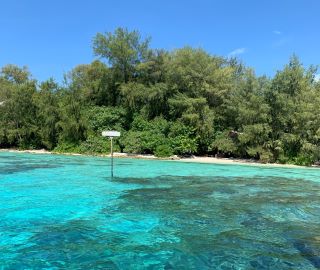 Explore this small Island where US president John F Kennedy and the crew of PT109 were ship wrecked during WWII. There is great snorkelling, hammocks to relax on and an area for a BBQ if you want to take a picnic.
Kolombangara Hiking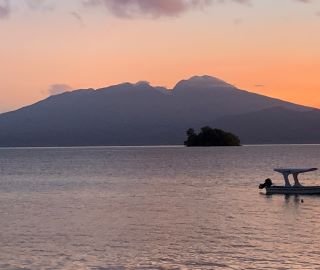 www.visitsolomons.com.sb
Kolombangara is a dormant or semi-extinct volcano last active around 10,000 years ago. Climb one of Kolombangara Island's mountains to experience panoramic views across Gizo and the Vona Vona lagoon. There are various hikes to take which accommodate people at all levels.
Bonegi Beach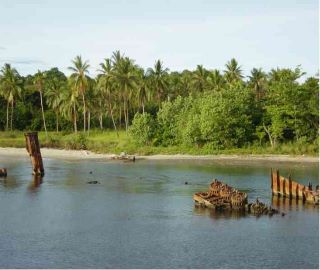 www.tripadvisor.com.au
Bonegi Beach is a haven for divers and beachgoers. Two Japanese freighters (Hirokawa Maru and Kinugawa Maru) bombed by the allies are beached right in front of the Bonegi stretch. They are the most dived wrecks in the country and are excellent for both beginners and more experienced divers due to proximity to the shore and the amazing coral and fish life that have made the freighters their home.
Lake Tegano at Rennell Island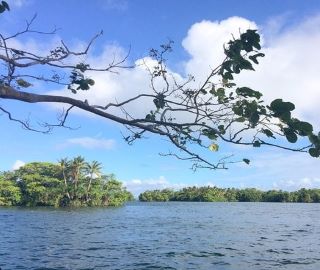 www.tripadvisor.com.au
Explore this World Heritage Listed lake with its abundant wildlife unique to the area or see the remains of Catalina seaplanes used in World War II, some being in shallow waters. There are also about 200 islets and various caves in the area, streams to swim in, and opportunities to canoe on the lake using traditional dugout canoes or sea kayaking organised through nearby accommodation.