Experience Paradise in the Solomon Islands
Ever wondered what a day in paradise would entail? Ask anyone who has woken up in the Solomon Islands and they're sure to tell you.
Solomon Islands: A South Pacific Gem
An archipelago of 992 virtually untouched islands forms part of the island nation of the Solomon Islands. Located to the east of Papua New Guinea and northwest of Vanuatu, this South Pacific paradise has retained its captivating laid-back charm, reminiscent of what island life used to be like in days gone by. Honiara is the nation's capital which is situated in the Guadalcanal Province. This is the main gateway for entry as most visitors arrive via Honiara International Airport which is the main hub for Solomon Airlines, the nation's airline carrier.
Pristine Reefs Abound
One of the biggest drawcards that attract visitors to the Solomon Islands is its wealth of unspoilt reefs and world-class diving sites. The waters surrounding the Solomon Islands are some of the most biodiverse in the world; with just under 500 species of hard and soft corals forming part of the 5,750 km² reef system which lies within a wider area known as the Coral Triangle.
This underwater wonderland teems with tropical marine life. Here, migratory routes for technicolour reef fish, sharks, rays, turtles and dolphins crisscross the region, which also happens to be the spawning grounds for thousands of reef fish and ocean critters. Watch in sheer wonder as schools of trigger fish flit in and out of reefs that are covered in a dazzling array of sea fans and colourful carnation corals. Swim alongside majestic manta rays and sea turtles, or take a closer look at the ocean floor where you'll find pygmy seahorses, reticent eels and a host of lively ocean critters. These are but a few reasons that make the Solomon Islands a diver's dream destination.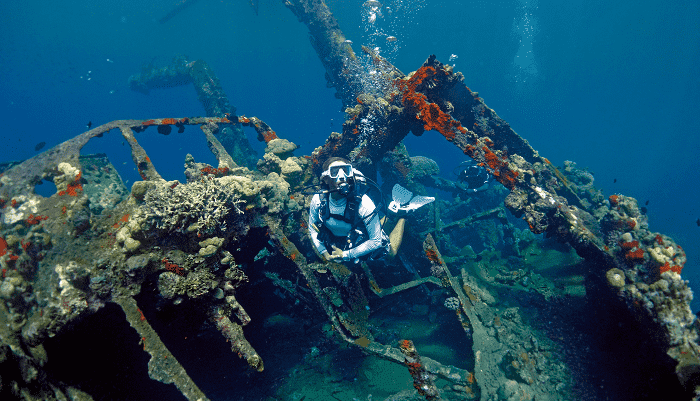 World-class Wreck Diving
If wreck diving is what you're after, the Solomon Islands is a great diving destination to explore. It has one of the highest concentrations of WWII wrecks that can be found in the Pacific; with a seabed that is littered with sunken submarines, aircrafts, and ships. These WWII relics now serve as artificial reefs and have become the reclaimed home to a myriad of marine creatures such as neon-coloured nudibranchs and lionfish.
One of the few uncorrupted diving locations that can still be found in the world, the Solomon Islands has long been a closely guarded secret, kept by diving aficionados in the know. As result, a trip to this unspoilt piece of underwater paradise means you needn't worry about overcrowded diving sites or being interrupted by packed tour boats sailing overhead. Many of these world-class diving sites are available for recreational divers to explore year round.
Losing Yourself in Island Life
After a rewarding day exploring the fascinating depths of the surrounding cerulean waters, visitors can wander through a typical Melanesian market, soaking up the sights, sounds and aromas of island life. Central Market is a wonderfully vibrant and authentic market that is situated in Honiara. Here you'll find friendly local women watching over their stalls laden with exotic flowers, fruit, vegetables and freshly caught fish. Soak in the laid-back atmosphere here by sampling the exquisite fresh produce or spend some time perusing the beautifully handmade crafts and jewellery that are available for sale.