Experience Paradise in the Solomon Islands
Ever wondered what a day in paradise would entail? Ask anyone who has woken up in the Solomon Islands and they're sure to tell you.
Solomon Islands: A South Pacific Gem
An archipelago of 992 virtually untouched islands forms part of the island nation of the Solomon Islands. Located to the east of Papua New Guinea and northwest of Vanuatu, this South Pacific paradise has retained its captivating laid-back charm, reminiscent of what island life used to be like in days gone by. Honiara is the nation's capital which is situated in the Guadalcanal Province. This is the main gateway for entry as most visitors arrive via Honiara International Airport which is the main hub for Solomon Airlines, the nation's airline carrier.
Pristine Reefs Abound
One of the biggest drawcards that attract visitors to the Solomon Islands is its wealth of unspoilt reefs and world-class diving sites. The waters surrounding the Solomon Islands are some of the most biodiverse in the world; with just under 500 species of hard and soft corals forming part of the 5,750 km² reef system which lies within a wider area known as the Coral Triangle.
This underwater wonderland teems with tropical marine life. Here, migratory routes for technicolour reef fish, sharks, rays, turtles and dolphins crisscross the region, which also happens to be the spawning grounds for thousands of reef fish and ocean critters. Watch in sheer wonder as schools of trigger fish flit in and out of reefs that are covered in a dazzling array of sea fans and colourful carnation corals. Swim alongside majestic manta rays and sea turtles, or take a closer look at the ocean floor where you'll find pygmy seahorses, reticent eels and a host of lively ocean critters. These are but a few reasons that make the Solomon Islands a diver's dream destination.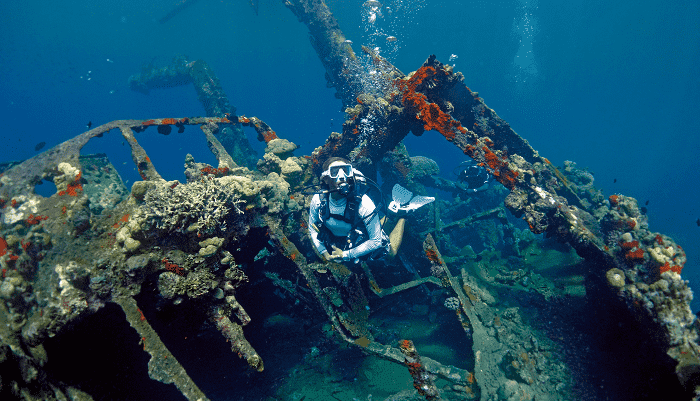 World-class Wreck Diving
If wreck diving is what you're after, the Solomon Islands is a great diving destination to explore. It has one of the highest concentrations of WWII wrecks that can be found in the Pacific; with a seabed that is littered with sunken submarines, aircrafts, and ships. These WWII relics now serve as artificial reefs and have become the reclaimed home to a myriad of marine creatures such as neon-coloured nudibranchs and lionfish.
One of the few uncorrupted diving locations that can still be found in the world, the Solomon Islands has long been a closely guarded secret, kept by diving aficionados in the know. As result, a trip to this unspoilt piece of underwater paradise means you needn't worry about overcrowded diving sites or being interrupted by packed tour boats sailing overhead. Many of these world-class diving sites are available for recreational divers to explore year round.
Losing Yourself in Island Life
After a rewarding day exploring the fascinating depths of the surrounding cerulean waters, visitors can wander through a typical Melanesian market, soaking up the sights, sounds and aromas of island life. Central Market is a wonderfully vibrant and authentic market that is situated in Honiara. Here you'll find friendly local women watching over their stalls laden with exotic flowers, fruit, vegetables and freshly caught fish. Soak in the laid-back atmosphere here by sampling the exquisite fresh produce or spend some time perusing the beautifully handmade crafts and jewellery that are available for sale.
Tours and Activities
Diving and Snorkelling in Seghe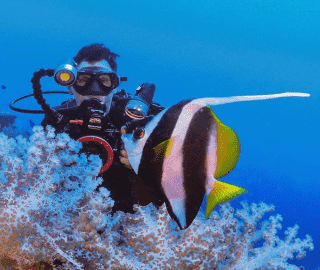 www.uepi.com
Some of the most outstanding diving in the world, the perfect water clarity puts vibrant coloured corals, a multitude of marine life and outstanding wrecks on display. Learn to dive, join a snorkelling excursion or simply step off the pier into the beautiful lagoon.
Island Excursions from Munda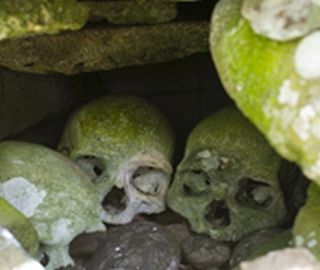 www.zipolohabu.com.sb
Explore the reef, lagoon and islands such as Bikiki Island, Mantaray Island and the famous Skull Island. Enjoy a swim, snorkel or fishing and a picnic or bbq can be arranged. Soak up history or the sun, whatever your preference.
Island Day Tours from Honiara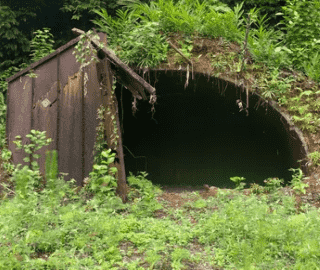 www.visitsolomons.com.sb
Board a boat at Point Cruz to travel to the Central Province to see the area's famous World War II historical sites. Visit Gavutu Island where the Japanese built a big wharf during the war and Tokyo Bay where many Japanese War ships rushed to try to avoid being bombed by American Armed Forces. Savo Island tours are also available.
Village Experience in Suavanao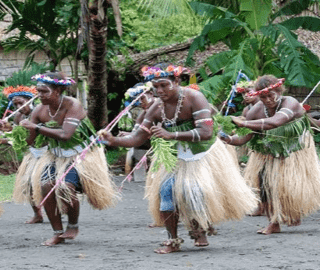 www.papatura.com
A highlight to the Solomon Islands is having a village experience and the one in Suavanao is no different. Visit the traditional haus and the cook haus. Chat with the villagers and enjoy playing with the kids. See how village life is today and see how the village is retaining its traditions and culture.
Village Life in Fera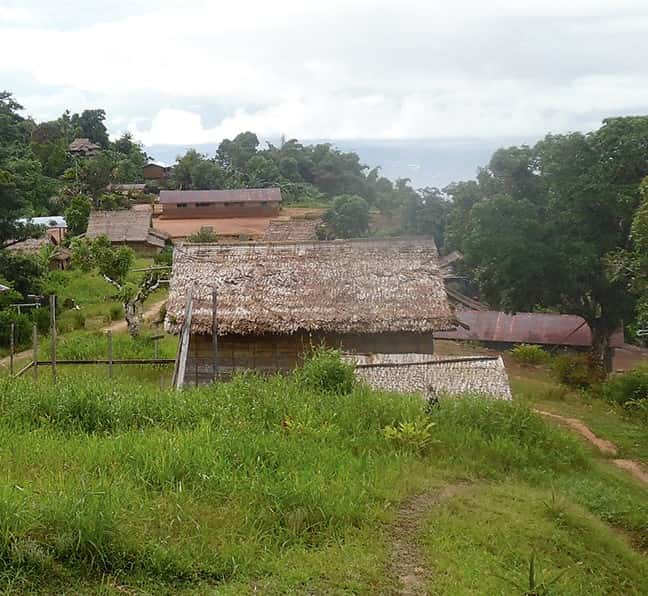 www.flysolomons.com
Situated along the mountain range above Buala Town, you can visit Tirotonga Village, a picturesque home with mostly sago-palm thatched houses and few iron-roofing hamlets overlooking Maringe Lagoon. Witness a traditional fishing technique still practised by the nearby coastal village of Nareabu known as 'Visi', using woven coconut leaf nets. Read more at the link.
Island Hopping near Kirakira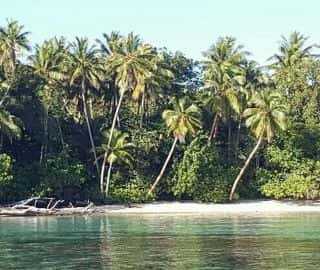 www.facebook.com
You can organise day trips to the Three Sisters, Pio and Ugi Islands, ideal for birding, exploring the villages or simply enjoying the natural beauty. A guide will take you to the villages, where you can soak up the local culture and entertainment. If you are interested in flora and fauna then there are many exciting bird-watching and tropical flower trails in the nearby forests.
Reef Island Hopping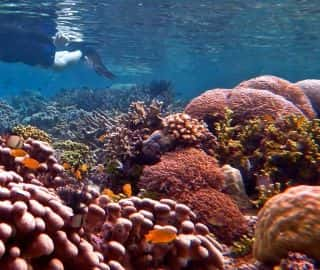 volcanolive.com
Stunning lagoons brimming with marine life, game fishing hotspots, stretches of reef, remote islands sprinkled with deserted beaches, crystalline caves, and many picturesque villages. Snorkel off the shore or for the more adventurous, explore the outer reefs and other fascinating islands by motorised canoe.
Reef Islander Life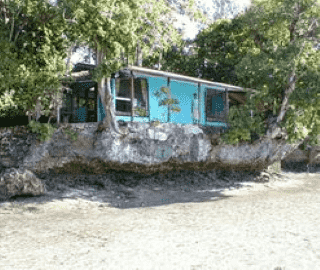 www.visitsolomons.com.sb
Enjoy the pleasure of fishing, scuba diving, bird watching, canoeing, shell collecting or exploring the fascinating cultures in the local villages. Inter-island sailing using traditional craft called the tepuke enabled Reef Islanders to trade with larger islands. Learn about the local traditions or sit under the waving palms reading a book.
Village Visits in Ramata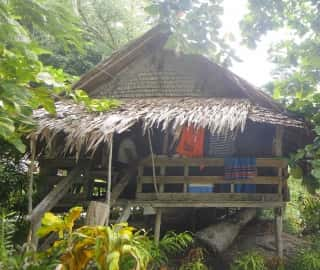 mavo-lodge.com
Take a stroll through one of the friendly local villages, learn about the local culture, traditions, handicrafts, and their livelihood. You may also have the opportunity to assist schools and meet the children to enrich and contribute to their ongoing education. You are also welcome to bring textbooks, pencils, and learning materials to donate.
Diving in Gizo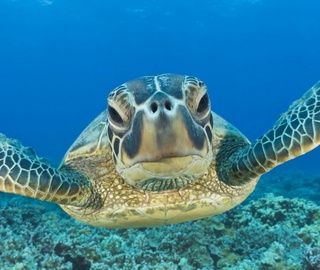 www.divegizo.com
There are over 15 world class dive sites around the Gizo area ranging from manta ray dives, coral dives, and famous World War II relics including the renowned Toa Maru No. 2 Dive plus a host of Japanese and American fighter planes dive sites.
Tulagi Dive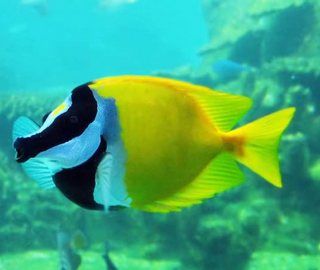 www.tulagidive.com
Iron Bottom Sound was the scene of some of WWII's biggest naval battles. It is the channel between Guadalcanal, Savo and the Florida islands and is the resting place for over 50 Japanese and Allied warships and fighter planes, hence the name "Iron Bottom". Noteable dives around Honiara include Hirokawa Maru, USS John Penn, and Kinugawa Maru. For the more experienced diver, try out the Aaron Ward in the nearby Florida Islands, the only diveable destroyer.