Discover Solomon Islands Nature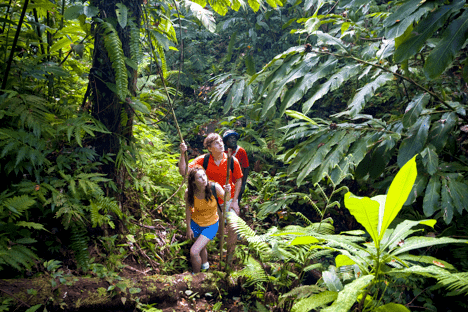 The Solomon Islands archipelago is a haven for animals above and below the water. Our underwater locals are a major drawcard for visitors to our shores. Whether you're a keen diver, an avid fisherman, an enthusiastic snorkeller or you just love the ocean, you'll love our underwater paradise. If you love nature, we've got beautiful rainforests for you to feel at home. To discover more about the wild and natural beauty of our home, please read on.
Under the Sea
The Solomon Islands are a hidden gem and those in the know love our underwater world. People come from all over the world to visit us and discover our underwater paradise that is untouched by mass tourism and environmental pollution. Expect to see vibrant reef fish, blue-finned tuna, many species of shark, manta rays and much more in this thriving marine eco-system. Sea turtles are common and are the Solomon Islands national animal.
Water clarity is fantastic all year round and it's easy to navigate your way on a guided snorkelling, surfing or deep-sea diving escapade. And the coral in the Solomon Islands is a kaleidoscope of colours and shapes that make a tranquil home for the marine life in this uniquely tropical ocean zone.
Sky High
Look up for Solomon Islands bird life too. Hikers will be delighted to spot many species of birds as they explore the jungle. The Solomons are renowned for featuring a vast array of bird life species in concentrated areas. There are birds here that you won't find anywhere else on the planet! The rainforest, coastal and oceanic habitats are ideal for tropical parrots, soaring sea eagles, doves, owls, herons and many more.
Plant Life
Getting outside is good for the soul! Explore the Solomons and breathe in the soothing rainforest air for your most rejuvenating holiday yet. The Solomon Islands are located in remote Melanesia and are mostly made up of 6 main islands including Guadalcanal, Malaita, New Georgia, Makira, Santa Isabel, and Choiseul. It may surprise you that the Solomons are mountainous because we have a volcanic landscape. Add to that regular rainfall and fertile soil and it has organically created a prime environment for plants and flowers to bloom.
When discovering our natural surrounds keep an eye out for some of the prettiest plant life around. The healthy biodiversity is displayed by way of rare wild orchids and stacks of tropical flowering plants. New varieties of plants are still being discovered today! When you see the lush foliage of where the forest meets the sea it really does create a unique experience. Coconut and pandanus palms are everywhere in the 'Hapi Isles'. So why not rest in the shade on the beach and have yourself a locally grown fruit feast?
Come and visit
All in all, an adventure to the Solomon Islands is an invitation to see thriving, almost Jurassic like vegetation up close and personal. Combine this with an abundance of interesting animal life and you have yourself a holiday destination that will connect you back with nature.