Liveaboard Cruising in the Solomon Islands
Dive. Eat. Sleep. Repeat. Discover another world. Liveaboard and Escape.
Top 10 Liveaboard Cruise globally in Dive Magazine Travel Awards 2020.
In the midst of the South Pacific, the spectacular underwater world of the atolls and islands of the Solomon Islands offers some of the most spectacular, and least visited dive sites in the world.
While snorkelling and diving the Solomons is a magical experience at any time even close to shore in Honiara, many of the country's rarest dive locations are in places that aren't easily accessible without the help of local experts.
Diving in the Solomons' outer reaches, encounter a constant diversity of abundant marine life, from colourful schooling fish, tiny pygmy seahorses and curious clownfish, to barracuda en masse, sharks and even spectacular manta rays.
Imagine diving the clear, year-round warm sea of the Solomons, an escape and immersion of the finest kind. Diving here means surroundings of healthy coral gardens, amazing sheer walls, exploring deep-sea caverns, and wide-angle reefs, all in an aqua sea.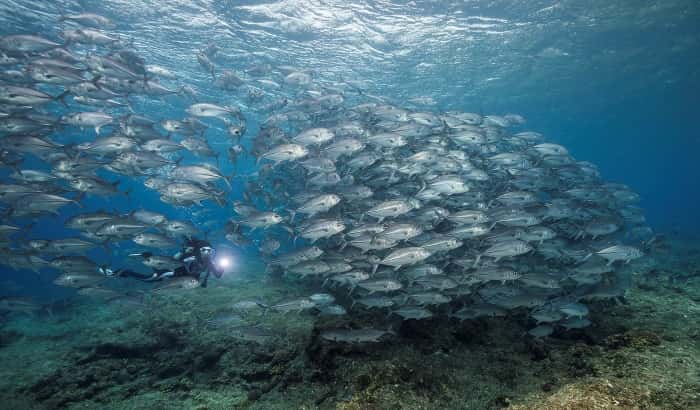 Photo credit: Diving near Mary Island by Matt Smith
Which is why, for those who want to truly immerse and escape, a Solomon Islands liveaboard holiday is an ideal option, that goes far beyond a day dive experience and far and wide across our spread of islands.
Whether you are recently certified, or a veteran scuba diver who prefers undersea to dry land, our expert liveaboard crews know exactly where to take you.
Around the world liveaboard dive holidays – 'living onboard' specially equipped dive boats - are a great option for divers who want to see and do more than a day dive or day trip. This is especially so in the Solomon Islands as our archipelago nation is comprised of more than 900 scattered islands, reefs and atolls.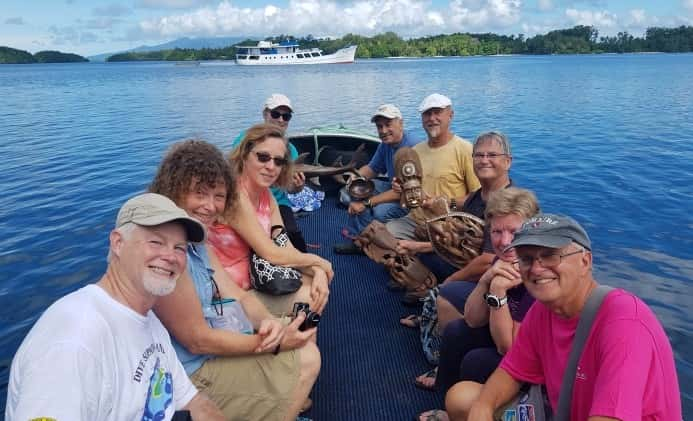 Photo credit: Divers with carvings in Marovo Lagoon by Kellie Oldfield
A liveaboard crew will also take care of your every need and safely transport you to spectacular hidden places, in the most comfortable, hassle-free way possible.
All you have to do is dive, eat, sleep, repeat, while at night your home away from home rocks gently, anchored over some of the planet ocean's most stunning coral reefs or gently moving locations while you dream.
As well as providing the outstanding diving, liveaboards offer very comfortable accommodation in cabins on the ship, food and beverages including delicious meals made from freshest local produce and ingredients – some of which is gathered from villages on the way.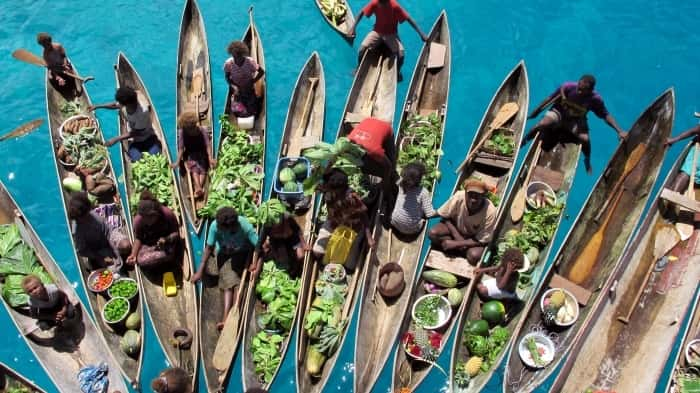 Photo credit: Floating market off Bilikiki Cruises by Kellie Oldfield
Typically, on a liveaboard in the Solomon Islands, it's possible to dive up to five times a day with many locations being visited in a single trip. With diving straight from the boat, little time is wasted so that guests can spend maximum time in the water. There are also no lost days moving between islands as crossing between our island groups happens at night so that no diving time is lost during the day.
Liveaboards can offer 2,3,7 and 10-day itineraries. On a 10-day trip it is possible to visit the Solomon Islands' Florida and Russell Islands, Mary Island and Marovo Lagoon - several distinctly different destinations rolled into a single holiday.
Beyond the amazing diving, living onboard also offers the opportunity to see remote villages and traditional customs and hand-crafted carvings and artefacts.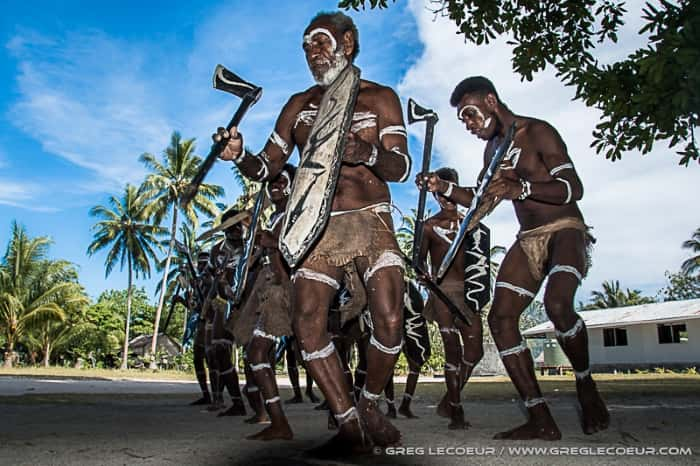 Photo credit: Liveaboard village by Greg Lecoeur
Cruising through the flat seas of these beautiful islands is a pleasure in itself, especially as often dolphins will decide to ride the bow wave. In some of our remote regions only accessible by boat, our liveaboard guests even have dive destinations completely to themselves.
There are two excellent, full-service Liveaboard operations in the Solomon Islands, one run by Bilikiki Cruises – consistently rated one of the best liveaboard experiences in the world, and the other Solomon Islands Dive Expeditions with more than 15 years of exceptional scuba diving expedition experience.
The guest list on either can be incredibly diverse. On longer liveaboard trips, you may find a larger number of die-hard divers, who share their passion for the sea. On shorter and mid-length dives, you'll likely meet people who love diving, who love travel, along with those who are also there for the sailing experience.
Whatever your diving level, there is a liveaboard option for you in the Solomon Islands, a home away from home, a truly unforgettable escape, and a chance to immerse yourself literally, in one of the world's most pristine and spectacular dive locations.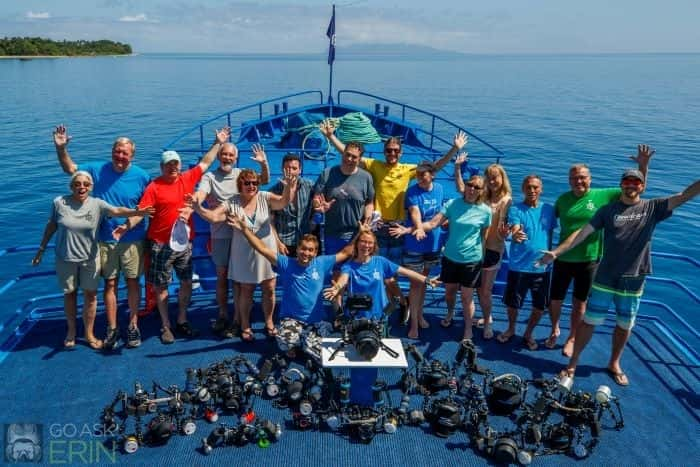 Photo credit: Divers onboard Bilikiki Cruises by Erin Quigley
Accommodation
Bilikiki Cruises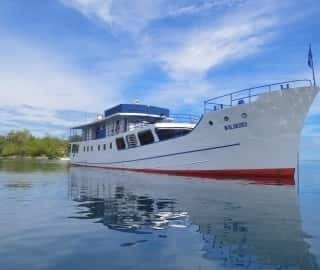 www.bilikiki.com
Visit a range of rarely visited dive sites, during an exclusive 7 or 10-night liveaboard cruise with Bilikiki. Visit the Russell Islands, Mary Island, and the Florida Islands to dive spectacular reefs and discover the natural diversity and the traditional village life the Solomon Islands are renown for, in absolute comfort.