Fishing in the Solomon Islands
The Solomons has fishing to suit every type of angler and the Coral Sea is teeming with fish. Whether you like deep sea, river, reef or estuary fishing, we have an adventure for you.
Some of the fish you can find in our islands are marlin, sailfish, mahi-mahi, giant trevally, wahoo, Spanish mackerel, coral red trout, red sea bass and the list goes on!
When is the best time to go?
The fishing is great all year round in the Solomons.
Where can I go fishing?
With almost 1,000 islands, we've got just the right spot. Simply decide what type of fishing you'd like to do and we'll have just the place! Better still, try a few different locations to experience all of the fishing adventures on offer. Here are a few of our favourites but there are so many more!
Munda
As well as diving, Munda has spectacular fishing too! The waters around Munda mean you can experience deep sea and outer reef fishing as well as lagoon, river and estuary fishing. Some of the species you are likely to find in the waters around Munda are blue & black marlin, sailfish, mahi-mahi, coral trout, giant trevally, yellowfin tuna and so much more. If you're after variety, Munda is the perfect place.
There are plenty of accommodation options in and around Munda and the best time to go is between July & September.
We have daily flights from Honiara to Munda so you can enjoy all of your fishing adventures.
Gatokae Island
If you're looking for someone a little more remote you will be rewarded by heading to Gatokae Island, accessible from Seghe. The island is located in a coral lagoon at the south-eastern tip of the Western Province and offers an unspoilt and varied fishing experience.
If sport and game fishing is what you're after, then Gatokae is the place to head. There are heaps of fish and plenty of action! There is a sheer drop off where you'll probably land some Spanish mackerel, dog-tooth tuna, wahoo, giant trevally and coral trout. For those that like the chase, then Pacific sailfish, blue and black marlin and yellow fin tuna are waiting for you.
For those that prefer estuary fishing, mangrove jack, estuary cod, trevally and spot tail bass live in our jungle rivers.
The best time to travel to Gatokae is from April – June and then mid-October until mid-December.
We have daily flights to Seghe and then transfer by boat to your accommodation.
Papatura Island
Once again there's a huge variety of fishing options on Papatura, accessible from Suavanao. The fishing grounds from Papatura are one of the most spectacular locations in the Pacific. You can land sailfish, sweet lip, coral trout, wahoo, barracuda, wrasse, snapper and so much more! And if you like a challenge, you'll find golden trevally at Papatura and they will give you a workout!
If river fishing is more your style, we have some of the best unexplored rivers in the world. You'll find trevally, mangrove jack, cod, spot tail bass and much more.
We have daily flights to Suavanao and then it's a short boat ride to Papatura Island.
Tours and Activities
Fishing in Seghe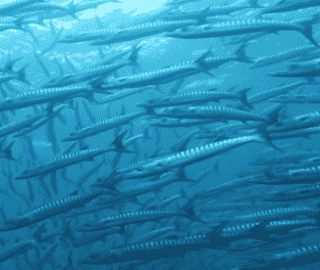 www.uepi.com
Conservation is the name of the game in Seghe and big game fishing is not encouraged however recreational fishing is plentiful and fun. Most likely what you catch will be on your plate that evening or provided to the local village.
Fishing in Suavanao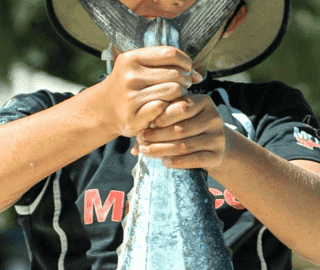 www.papatura.com
You are spoiled for choice as the area is abundant with many varieties of fish to catch. If you're a first time angler and just want to sit on a jetty and throw a line out, there are plenty of catch and release opportunities however sports fishing opportunities abound in the deeper waters.
Fishing in Ramata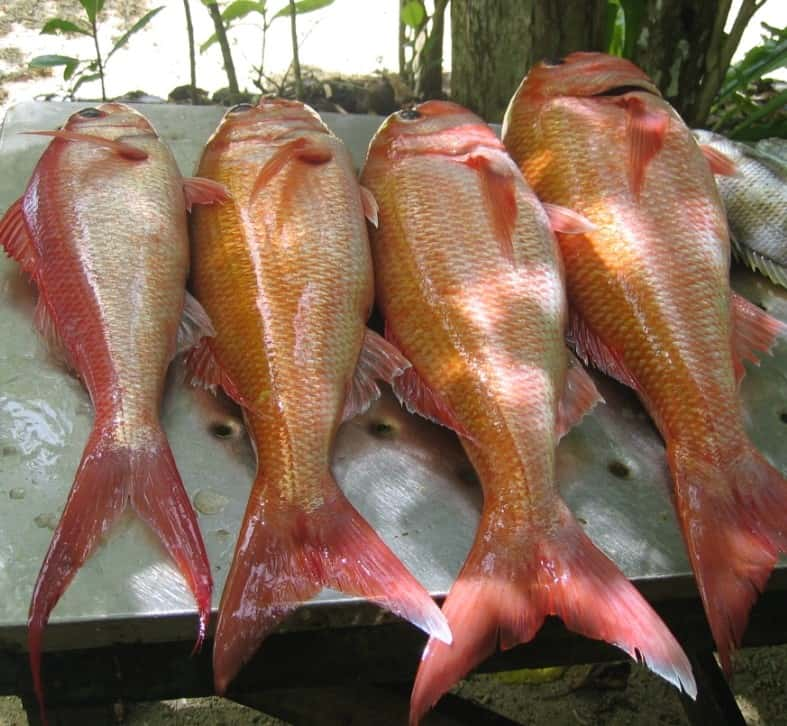 mavo-lodge.com
The area is known for amazing fishing opportunities including reef, wreck, beach and estuary fishing and especially big game fishing, catering to all levels. Besides the bountiful lagoons there are also quiet jungle settings to enjoy river fishing. You can try your hand at line fishing or fish like a local using spears and nets. Find Spanish Mackerel, Wahoo, dog-tooth Tuna, giant Trevally, Red Bass, Coral Trout and more.
Fishing in Munda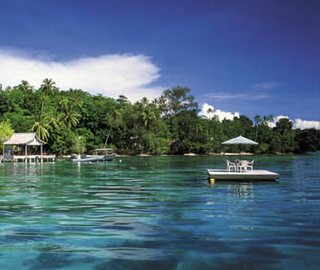 www.zipolohabu.com.sb
The Munda area offers a unique diversity of fishing from saltwater fly, to deep sea fishing. Whether you want to troll for Spanish Mackerel, Sailfish and Marlin or bottom-fish for Coral Trout and Rosy Jobfish, the fishing grounds of the Munda area are unequaled, for beginners and sports fishing.
Fishing in Gizo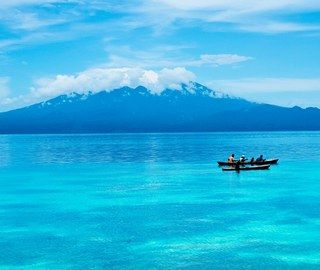 Some of the best fishing grounds in the Pacific are no more than 30 minutes by outboard motor from Gizo. With excellent fishing year round you will not be disappointed organising a day out on the water.
Fishing in Kagau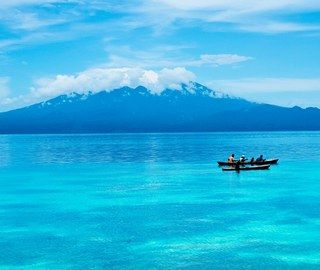 The waters between Kagau and the mainland are hotspots for Mahi Mahi and Dog Tooth tuna. You can go fishing on your way out to Arnavon Island.
Accommodation
Zipolo Habu Resort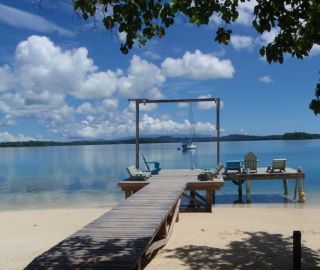 www.zipolohabu.com.sb
On Lola Island in Vona Vona Lagoon, 35 minutes boat ride from Munda, the resort is surrounded by tranquil turquoise waters, swaying tall palm trees, and white sandy beaches. Zipolo is known for sports fishing however activities can be arranged such as surfing, diving, tours of Munda and local attractions. There are varying traditional accommodation styles that provide an authentic island living experience.
Uepi Island Resort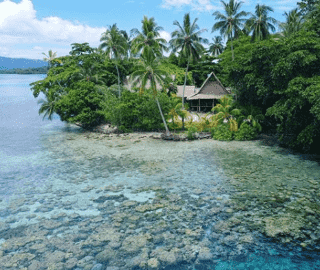 www.uepi.com
A top dive and snorkel destination globally! Uepi has so much to offer with its perfect coral formations, outstanding marine life, and beautiful natural lush jungle. The island is 2.5km long with six traditional style bungalows, two units, and two guest rooms. With a maximum of 26 guests, feel relaxed and part of the family.
Driftwood Eco Lodge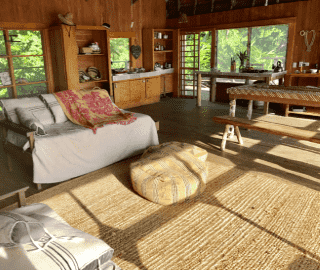 www.driftwoodsi.com
Experience life in the trees with the jungle below and sweeping views over the Marovo Lagoon. Located about 1-2 hours boat ride from Seghe Airport, Driftwood is a private residence like no other, mixing traditional materials with Western comforts designed for relaxation. You have access to the entire house with a private cook, housekeeper, and laundry service.
Mavo Lodge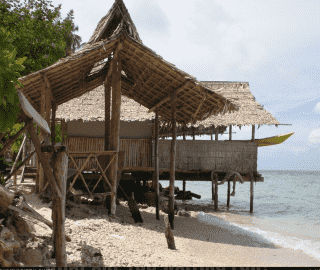 mavo-lodge.com
In traditional style, lodgings are spacious and clean with a rustic feel. There are two twin rooms in the main lodge and two beach bungalows. Keep refreshed with a stocked bar whilst enjoying freshly cooked meals of seafood, locally grown vegetables and fruit. Enjoy fishing, river walks, waterfalls, and explore caves and reefs.
Papatura Island Retreat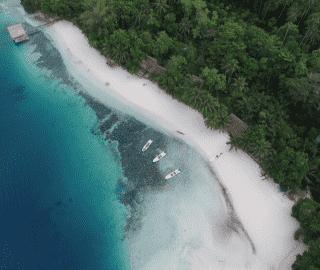 www.papatura.com
Enjoy Papatura Island Retreat, Solomon's oldest holiday destination and Santa Isabel's first world standard tourism project. Relax in your beachfront bungalow with warm tropical waters lapping the white sand beach on metres from your deck. Papatura boasts excellent fishing and awesome surfing, world class reefs for snorkelling, some great tropical rainforest walks and a true culture experience unspoilt by mass tourism. Papatura Island Retreat is your island getaway and is quickly being known as one of the Pacific's most sought after secret spots to step off the map and leave behind the worries of the modern world. Pure isolation.