Discover the Makira-Ulawa Province
The Makira-Ulawa people are very proud of the fact that HRH Queen Elizabeth II first set foot on Solomon Islands soil at Namuga, also known as Star Harbor, in East Makira.
Makira-Ulawa Province was first sighted by Spanish explorer Álvaro de Mendaña y Neira in June 1598, his expedition discovering a host of new islands as they sailed eastwards, including San Cristobal (Hanuato'o/Makira), La Tragueda (Ulawa), Santa Ana (Owaraha), Santa Catalina (Owarigi) and Las Tres Marias (Olu Malau/Three Sister Islands).
The province also has a royal connection and the Makira-Ulawa people are very proud of the fact that when HRH Queen Elizabeth II first set foot on Solomon Islands soil, it was at Namuga, also known as Star Harbor, in East Makira.
Six Languages are spoken throughout the province - Arosi, Bauro, Fagani, and Kahua are spoken on the mainland, while on Oawraha and Owarigi, Owa is the language used. On Ulawa and Ugi, Sa'a is spoken.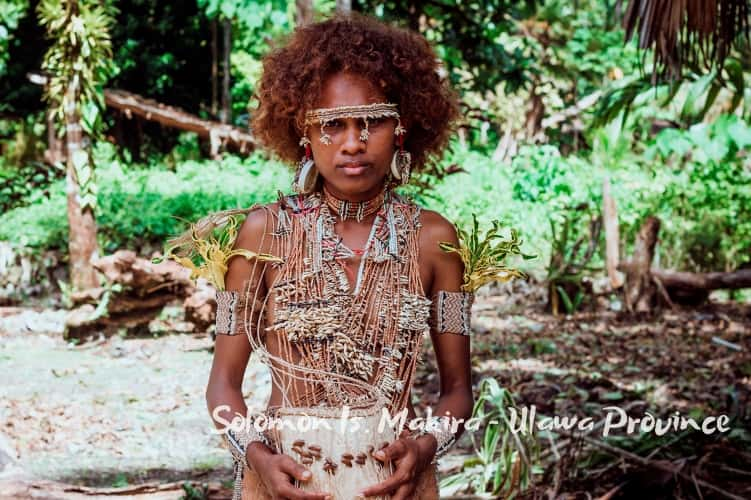 Photo credit: Jenning Traditional Dress, Tourism Solomons
Bananas have massive cultural and traditional significance for the region with about 180 different species, the banana is a staple of the Makira-Ulawa Province diet. Bananas are culturally significant because unlike other staple crops such as Yam and Taro, bananas yield all year round.
Bananas also have a practical application in traditional life. The banana trunk is used to weave cords, the leaves have been used as part of the traditional costume for centuries, and the starch has been used to dye traditional grass skirts and Tapa (bark) cloth.
A festival showcasing the diversity in Makira-Ulawa Province, and its Banana bounty, the annual 'De Makira Banana Festival,' is being reintroduced in 2022.
Kirakira is the region's administrational center. Located in the Bauro district of Makira, Kirakira houses the provincial government's headquarters and essential services such as police stations and hospitals.
Kirakira is perfect as a base for day trips to Pakera Station. Visitors and encouraged to make use of the facilities - seafront huts to relax and perhaps set up a BBQ. Pakera also has a little market for the community where locals sell delicious banana chips, coconut cookies, root crops and fish – and of course bananas.
Eastwards of Kirakira, visitors can visit the East Bauro highlands. From there, a must-do activity is to canoe, tube, raft, or cascade down the Rawo River.
Other activities from Kirakira include waterfall walks, island Picnics, village visits, and traditional cultural displays.
Ngasi is Makira-Ulawa Province's highest peak at an elevation of over 1040 meters is a treat for birdwatchers with all of Makira's endemics occurring at around 500 meters. Of the 70 different bird species occurring in the province, 12 are endemic.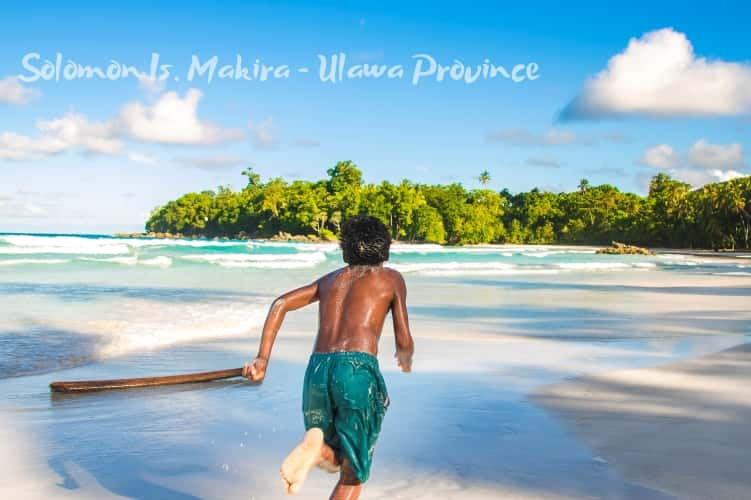 Photo credit: Su'upaine Beach, Tourism Solomons
Surf is accessible from Kirakira, the closest breaks being a 40-minute boat ride away. Other good breaks can be found on the Eastern tip of Makira, just off Star Harbor, which is a 2.5-hour boat trip from Kirakira.
The 'Rocky Island,' Ulawa is mostly surrounded by a fringe of rocks. It is little known that on the eastern side of the island, there are some of the most spectacular beaches in the Solomon Islands. This side of the island also receives seasonal surf, which breaks onto the beautiful beaches.
Ulawa is far more advanced than other islands in the Solomons. The island's infrastructure includes an airport, a wharf, a ring road, and is currently expanding its hydro-power electricity services.
Essential services include police stations and the island offers medical services from four clinics at different locations.
The road around the island is solid as the surface is mainly limestone, making for smooth running. Transportation options are mainly three-ton trucks, but there are some privately-owned taxis that offer the comfort of a seat.
Accommodation providers are few, with only three provincially registered operators located at Arona, Hadja, and Mwadjoa. Some startup operations have come into existence around the island, most Villages have a church or community rest house where visitors to the community are welcome to stay with permission.
Trekking the hinterlands is an amazing experience. The forest is untouched, the jungle is home to spiders, scorpions, centipedes, and many other species of insects. There is a plethora of birds - Kingfishers, Pigeons, Herons, Coucals, and predatory species such as Eagles. Few research expeditions have been to this neck of the woods, so who knows, there could be a species of bird, mammal, or insect waiting to be discovered.
Known locally as Owa Raha, Santa Ana is on the eastern end of the island of Makira and two main villages are Nafinotoga and Gupuna.
Santa Ana's only graded road leads from the airfield to Gupuna Village, where you will find options for accommodation in Fiutania Resthouse and Obed Family Resthouse.
Owa Raha has the oldest Kastom House in the South Pacific. Aufa Rafa is a sacred place containing the remains of Chiefs past.
There are two Lakes in Santa Ana, the larger of which is called Wai Raha, which means 'Big Water', and is a popular social spot for the communities on Owa Raha. The smaller is called Wai Piapia which means 'Muddy Water' which is fitting as Wai Piapia is surrounded by a muddy swamp.
South of Santa Ana is Owa Rigi or Santa Catalina. Flying over, one is reminded of a basic cell structure. As you look down, it seems the green central hinterlands of Faraina could be the nucleus, encased by a Cytoplasm of yellow sand and a membrane of white surf.
Santa Catalina is the location of possibly the oldest ritual in the Solomon Islands – Wogasia.
Wogasia is a ritual of reconciliation and renewal and marks the yam season. A spectacular finale to the event sees the men engage in a spear fight as means to end any dispute, and usually, after the spear fight, all are friends again, and peace reigns for the rest of the year – until its time for the next Wogasia.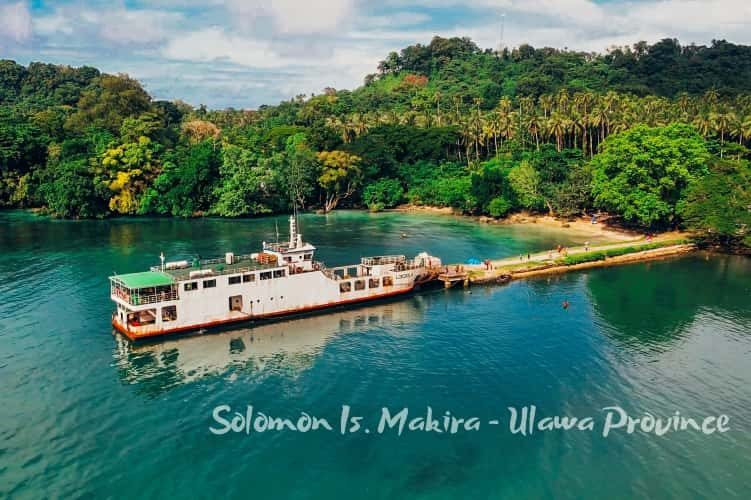 Photo credit: LC Lokoiolo at Su'umoli Wharf, Tourism Solomons
Makira-Ulawa Province is very much a final frontier, 90 percent of the province remains untouched by tourism, and communities still live via subsistence agriculture and fishing, as they have done for centuries, growing staple crops and fishing for the different seasonal fish, and perfect for adventure.
So pack your surfboard, a good pair of hiking boots, and come discover Makira-Ulawa Province.
Tours and Activities
Birdwatching in Kirakira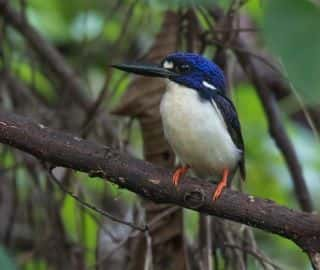 www.solhols.com
Makira Island is home to the most endemic species in the Solomon Islands. Trails around Kirakira are easily accessible for most. A long and steep trek to the Hauta Conservation area and inland mountains, staying in nearby villages on the way, will delight serious birders with species such as the Makira Thrush, Makira Leaf Warbler, Shade Warbler, Whiteheaded Fruit Dove.
Island Hopping near Kirakira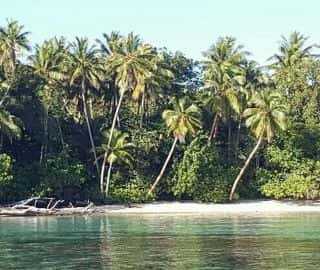 www.facebook.com
You can organise day trips to the Three Sisters, Pio and Ugi Islands, ideal for birding, exploring the villages or simply enjoying the natural beauty. A guide will take you to the villages, where you can soak up the local culture and entertainment. If you are interested in flora and fauna then there are many exciting bird-watching and tropical flower trails in the nearby forests.
Swim and Snorkel near Kirakira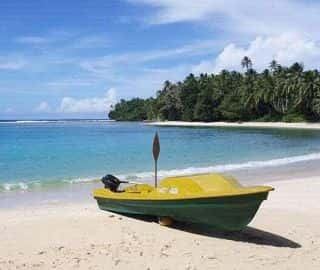 www.facebook.com
Visit white sandy beaches and enjoy some of the best snorkeling in clear pristine clear waters, in easy reach of Kirakira, including the Three Sisters and Ugi Islands. There are also unique surfing breaks and snorkelling. Coral reefs abound, spend hours exploring and see an extraordinary variety of tropical fish, by motor boat from Kirakira Harbour.
Accommodation
Fresh Wind Guest Haus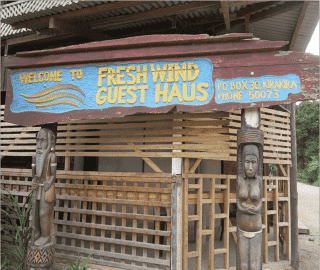 www.facebook.com
The property is centrally located with shops in walking distance. The rooms are clean and comfortable, some with air-conditoning. When in Kira Kira you can enjoy snorkeling in pristine waters, village visits and walks in the lush jungle.
Sea View Rest House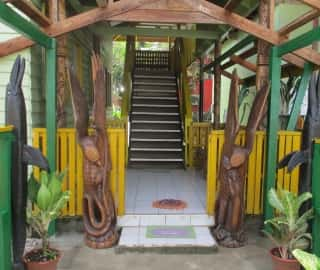 Centrally located at Kira Kira station and 15 minutes from Kirakira Airport. Choose from comfortable Self-contained or Standard rooms that offer privacy and sea views and shared self-catering kitchen facilities. Simply enjoy the authentic Makira hospitality or the hotel can assist to organise a boat tour to 3 Sister Island.