Surfing in the Solomon Islands
It may surprise you that the Solomons have fabulous surf breaks! Can you remember a time when there was no one else on your wave, no one dropping in on you?
Come and enjoy our uncrowded waves, crystal clear water and unspoilt beaches. In the Solomons you can surf a new break that no one has surfed before and stay on your own private beach. It's a slice of paradise off the beaten track.
When is the best time to go?
The best surfing is between October and April with peak season between November and March. The regular storm systems that come through at this time of year consistently generate swells between 3 feet and 6 feet but may often be bigger.
Where to surf in the Solomons
There are a few different options depending on your time and budget. If you're happy with life's simple pleasures and want to really experience the Solomons, village stays that operate as surf camps are a great option. You'll provide some income to the village and make new friends. Guest accommodation is typically in a comfortable well-built thatched home and your perfect wave is just minutes away.
For those who like a little more luxury, there are hotels and resorts where you can base yourself for an idyllic Solomon Islands surf adventure.
Malaita Province
Within the Malaita Province there are more than a dozen world class diving sites near the spectacular Lau Lagoon where the 'Solwata' or Salt Water People live. There are surf breaks to cater to novices as well as advanced surfers.
Ysabel Island and Western Province
Whether you're visiting the Isabel Province or the Western Province, both are easily accessible by flight and unique wilderness expeditions abound. You will stay in a local village, meeting the locals, contribute to the local economy and surf island style.
Guadalcanal Province
The Guadalcanal Province is the main entry point to the Solomon Islands so if you're looking for an easy weekend surf from Honiara, a number of operators can organise surfing tours not far away and there are some fantastic waves on offer.
How to get there
Solomon Airlines has flights every week from Brisbane to Honiara. From there your surf operator will organise your travel by boat to your destination.
Tours and Activities
Surfing in Suavanao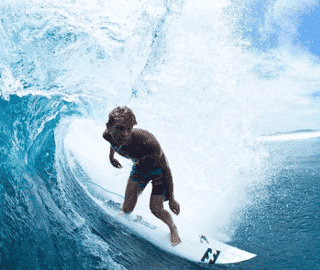 www.papatura.com
There are waves for all levels of surfing enthusiast with some great local breaks that are consistent all year. The best time for surf is between November and April when you can expect up to six foot waves.
Surfing in Munda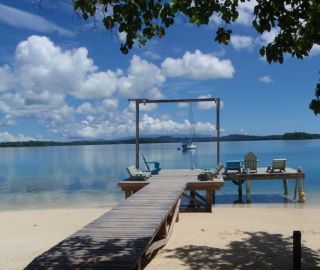 www.zipolohabu.com.sb
See some of the most exhilarating surf breaks in the Solomon Islands. The nearest surfing to Munda is at Lola Island in Vona Vona Lagoon. Lola Island is located 11 kms from Munda and has three surf breaks.
Surfing in Gizo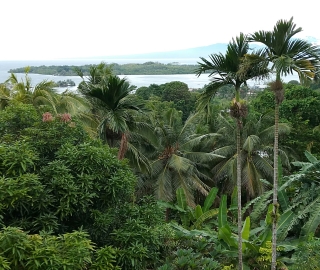 Great breaks can be found off Gizo. The best time for surf in Gizo is between November and April. There are two areas which are Titiana Village which is a left hander for goofy footers and Paeloge which has barrelling waves great for right handers.
Accommodation
Oravae Cottage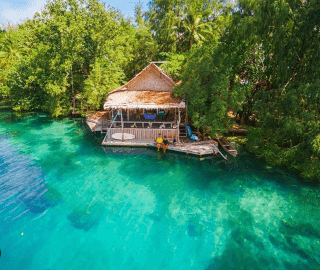 www.oravaecottage.com
Escaping to your own private island has never been easier and the team at Oravae are there to ensure that all distractions from home are forgotten. There is a main cottage and two separate bungalows that can be used for a family, close group or couple if they just want to indulge in the experience of having an island home to themselves. The island is only 10 minutes boat ride from Gizo Airport.
Zipolo Habu Resort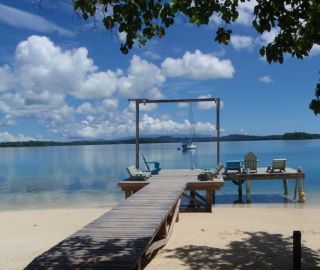 www.zipolohabu.com.sb
On Lola Island in Vona Vona Lagoon, 35 minutes boat ride from Munda, the resort is surrounded by tranquil turquoise waters, swaying tall palm trees, and white sandy beaches. Zipolo is known for sports fishing however activities can be arranged such as surfing, diving, tours of Munda and local attractions. There are varying traditional accommodation styles that provide an authentic island living experience.
Uepi Island Resort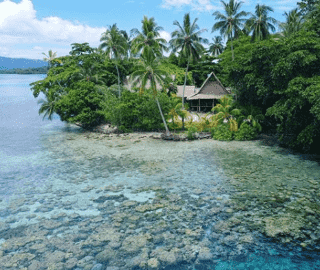 www.uepi.com
A top dive and snorkel destination globally! Uepi has so much to offer with its perfect coral formations, outstanding marine life, and beautiful natural lush jungle. The island is 2.5km long with six traditional style bungalows, two units, and two guest rooms. With a maximum of 26 guests, feel relaxed and part of the family.
Vavaghio Guest House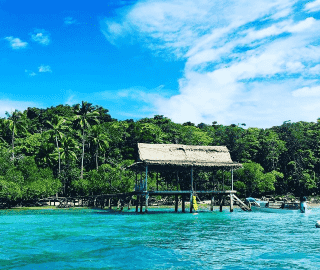 www.facebook.com
This remote island getaway is picture perfect and made for those that want to relax, surf, snorkel, or visit the Arnavon Community Marine Protection area in which you can learn about turtle conservation, dig for Megapode eggs, swim amongst amazing corals and go on cultural heritage tours.
Sanbis Resort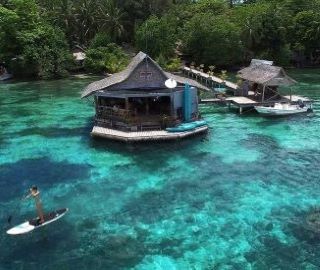 www.sanbisresort.com
After just a 7 minute boat ride from Gizo Airport you will arrive to warm smiles and a well stocked bar on the dock. Each traditional style bungalow has its own private beach with stunning views across the lagoon. Whether you try the numerous water sports on offer or just relax there will be no escaping the beauty of Sanbis.
Papatura Island Retreat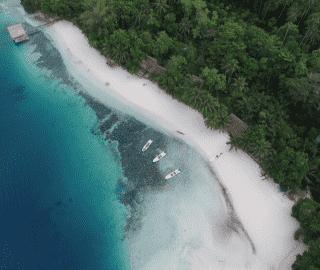 www.papatura.com
Enjoy Papatura Island Retreat, Solomon's oldest holiday destination and Santa Isabel's first world standard tourism project. Relax in your beachfront bungalow with warm tropical waters lapping the white sand beach on metres from your deck. Papatura boasts excellent fishing and awesome surfing, world class reefs for snorkelling, some great tropical rainforest walks and a true culture experience unspoilt by mass tourism. Papatura Island Retreat is your island getaway and is quickly being known as one of the Pacific's most sought after secret spots to step off the map and leave behind the worries of the modern world. Pure isolation.