Rennell Island, Rennell and Bellona Province
With nine provinces, six larger islands and several hundred smaller ones, getting around the Solomon Islands might seem daunting at first. We fly to over 20 destinations with the Solomons, so we're sure to be able to get you close to your destination. Contact us if you need assistance.
Find your destination and information below
Rennell Island is locally known as Mugaba, with Tigoa as the provincial capital of Rennell and Bellona. Rennell is a World Heritage Site and home to the South Pacific's largest inland lake - Lake Tengano. Rennell is the southernmost island in the Solomon Islands. Rennell is a raised coral atoll, withLake Tengano at its southeastern end. Rennell is approximately one hour by air from Honiara, and the airstrip is located on the western half of the island. Solomon Airlines flies to Tigoa on Rennell Island twice a week (subject to change).
Aircraft Transfer:
Transfers to and from the Airport must be made by prior arrangement.
Population:
Rennell and Bellona Province: 3,025 (2010 census estimates)
Main Industry:
Tigoa on Rennell is the provincial capital and administrative headquarters for Rennell and Bellona Province, with subsistence farming being the main industry.
Health Care:
There is a health clinic located in Tingoa.
Police:
Royal Solomon Islands Police at Tingoa station - Phone: (+677) 23666
Main Transport:
Transportation is by boat or truck.
Taxis:
There are no taxis on Rennell. There is only one road on Rennell and only several vehicles that drive along it
Internet:
There are limited internet services on Rennell Island.
ATMs:
There are no ATMs on Rennell Island.
Tours and Activities
Snorkelling in Rennell Island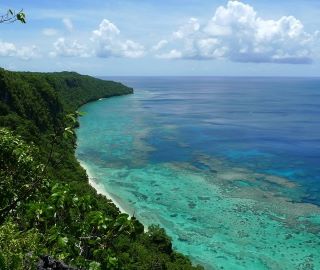 Rennell is the largest raised coral atoll in the world. There are various spots on the island that you can snorkel, one being Lake Tegano. There is a bomber submerged in the lake which is interesting to explore whilst snorkeling.
Wildlife on Rennell Island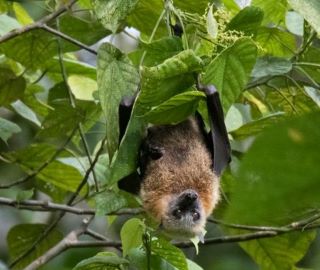 A nature paradise and home to several endemic species, including the Rennell Starling, the Bare-eyed White-eye, the Rennell Shrikebill and the Rennell Fantail. The province also has 730 insect species, an endemic orchid near Lake Tegano, two endemic species of Pandanus, the Rennell flying fox and an endemic lake sea snake.
Attractions
Lake Tegano at Rennell Island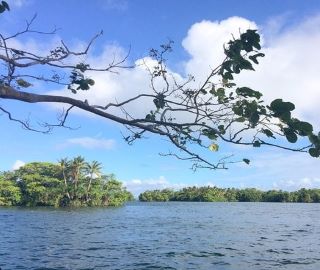 www.tripadvisor.com.au
Explore this World Heritage Listed lake with its abundant wildlife unique to the area or see the remains of Catalina seaplanes used in World War II, some being in shallow waters. There are also about 200 islets and various caves in the area, streams to swim in, and opportunities to canoe on the lake using traditional dugout canoes or sea kayaking organised through nearby accommodation.
Accommodation
Moreno Guest House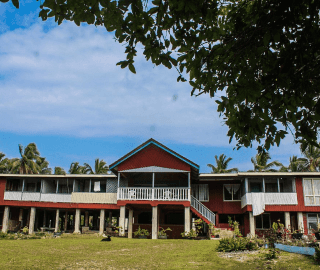 www.visitsolomons.com.sb
Conveniently located 3 minutes walk from the airport, the guest house has 12 rooms with self-catering facilities. Ideal for birdwatching, the nature trails start just behind the guest house. There are 6 species of bird in the area which will delight any twitcher to find.
Motumahi Lodge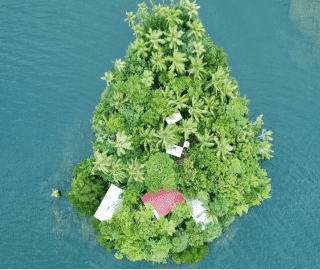 www.facebook.com
The island is small which allows you to have unique island experience in one of the most unexplored places in the Solomon Islands. The lodge is located in Lake Tegano and there are only two bungalows, one set up for families and the other for two couples. There is a shared shower and flushable toilets.
Ever Green Lodge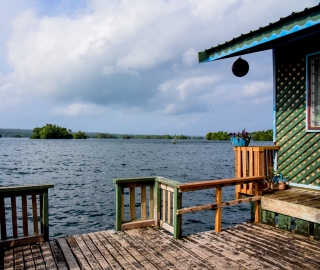 www.facebook.com
Located in Niupani Village in East Rennell about 3 1/2 hours drive from Rennell Tingoa Airport, Ever Green Lodge provides a natural respite on the shores of the World Heritage-listed Lake Tegano. Their bungalows and shared self-catering kitchen and bathroom facilities provide a comfortable retreat surrounded by nature to enjoy birdwatching and swimming.