Manaoba, Malaita Province
With nine provinces, six larger islands and several hundred smaller ones, getting around the Solomon Islands might seem daunting at first. We fly to over 20 destinations with the Solomons, so we're sure to be able to get you close to your destination. Contact us if you need assistance.
Find your destination and information below
Manaoba Island Baenalu Airport serves Manaoba Island and northern Malaita. Manaoba Island is located in the north east part of Malaita Province. Baenalu Airport received its first commercial flight operated by Solomon Airlines in July 2018. We operate flights using DHC-6 Twin Otter aircraft from Honiara twice a week.
Aircraft Transfer:
Transfers from Manaoba Airport are by boat through prior arrangement.
Population:
137,596 (estimated census 2009)
Main Industry:
The main industries for Manaoba are fishing, vegetable crops and shell-money making
Health Care:
Manaoba Mini Clinic. The nearest hospital is Malu'u.
Police:
No police station in Manaoba Island, only in Auki Township.
Main Transport:
Main transport options include a boat ride or dugout canoes to the islands.
Taxis:
There are no taxis in Manaoba.
Internet:
No Broadband and dial-up services available in Manaoba.
Mobile phones:
There is mobile coverage in Manaoba.
Accommodation
Berlin Lau Lagoon Homestay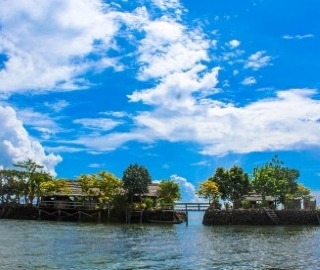 www.facebook.com
This stunning location in Lau Lagoon has a rich history. The islands had been formed in the early 1900's so locals could escape the feared head hunters of the region. Berlin is built on two islands and is a homestay that would not be forgotten. You can also experience a bath which is like no other in the Solomon Islands.