Marau, Guadalcanal Province
With nine provinces, six larger islands and several hundred smaller ones, getting around the Solomon Islands might seem daunting at first. We fly to over 20 destinations with the Solomons, so we're sure to be able to get you close to your destination. Contact us if you need assistance.
Find your destination and information below
Marau Sound is an airport located at the eastern end of Guadalcanal Island, in Guadalcanal Province. It has a small airstrip that provides domestic airport flights between Solomon Islands Capital, Honiara and Marau Sound. The airport has scheduled flights provided by Solomon Airlines, using DHC-6 Twin Otter aircraft going twice a week on Mondays and Fridays, resuming from October 2022. The flight from the capital takes about one and a half hours.
In 1896 a large and profitable trading station was established on Tavanipupu (Crawford) Island in Marau Sound. It is now the site of the Tavanipupu Spa & Wellness Retreat, which was visited by the Duke and Duchess of Cambridge in 2012.
Aircraft Transfer:
Transfers to and from Marau Airport are available through local operators by truck and also boat.
Population:
Guadalcanal: 93,613 (estimated census 2009)
Main Industry:
The main industries for Marau are timber milling, fishing and copra export.
Police:
Royal Solomon Islands Police - Phone: (+679) 23666
Main Transport:
Main transport options include a boat ride or dugout canoes to the islands.
Taxis:
There are no Taxis in Marau.
Internet:
Internet services are available through PF Net.
Mobile phones:
There is Mobile Coverage in Marau.
ATMs:
No ATM and banks at Marau.
Accommodation
Tavanipupu Spa & Wellness Retreat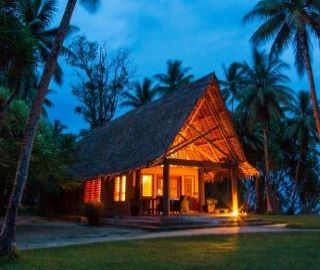 www.tavanipupu.com.sb
This quaint property boasts having had British royalty stay. The grounds are manicured to perfection and handcrafted bungalows are richly appointed with all the comforts one desires. Enjoy a relaxing massage or laze away in the crystal clear water. Tavanipupu is accessible from Marau Airport, a 25 minute flight from Honiara.
Milk Fish Bungalows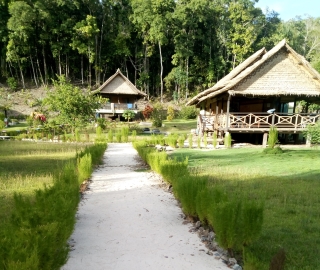 www.facebook.com
Located on the island of Marapa in the Marau Sound, and accessible via boat transfers from Marau Airport, Milk Fish Resort offers the ultimate setting for a relaxing getaway, simple, comfortable bungalows in natural surroundings with meals provided daily, waterfalls, treks, and small islands to explore on their doorstep.