Kagau, Choiseul Province
Location
Kagau (also spelled Kaghau) is an islet off the Southeast coast of Choiseul, in the Choiseul Province. Located on Kagau Island in the Choiseul Province. You can get to Kagau by sea or by air. There are usually two Solomon Airlines flights a week to Kagau.
Aircraft Transfer:
Transfers from Kagau Airport are available through prior arrangement.
Population:
Choiseul Province: 25,870 (2009 census estimate)
Main Industry:
The main industries for Kagau are marine products, timber milling, and small scale fishing.
Health Care:
If you need a doctor the nearest clinic is located in Wagina 30-60 minutes by boat.
Police:
There is no Police station at Kagau.
Main Transport:
The best transport is by boat. There are no taxis on Kagau.
Internet:
There is no internet or mobile phone coverage on Kagau.
ATMs:
There are no bank ATM's at Kagau.
Tours and Activities
Fishing in Kagau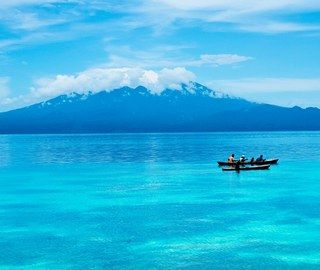 The waters between Kagau and the mainland are hotspots for Mahi Mahi and Dog Tooth tuna. You can go fishing on your way out to Arnavon Island.
Attractions
Dugongs at Kagau
On your way to Arnavon Island, keep an eye out for dugongs (sea cows) who roam the waters around Kagau and pop up every now and then to breathe.
Arnavon Island
An eventful 1-2 hour boat ride through open seas and strong currents from Kagau will take you to Arnavon Island where you can experience the world reknown Arnavons Community Marine Conservation Area (ACMCA) which covers 40,000 acres, three small uninhabited islands, flourishing reefs, fish-filled lagoons and beaches that are home to thousands of egg-bearing turtles. All bookings are to be done through the Nature Conservacy office in Honiara. The best time to visit Arnavon Island is the turtle nesting season in June, July, and August.