Solomon Airlines launches new booking system
---
Posted on May 23, 2017 at 02:05 PM in General News
---
Honiara, Solomon Islands – Further building on its online customer service delivery, Solomon Airlines has launched a booking system on our website, employing the latest in web-based flight, shopping and booking technology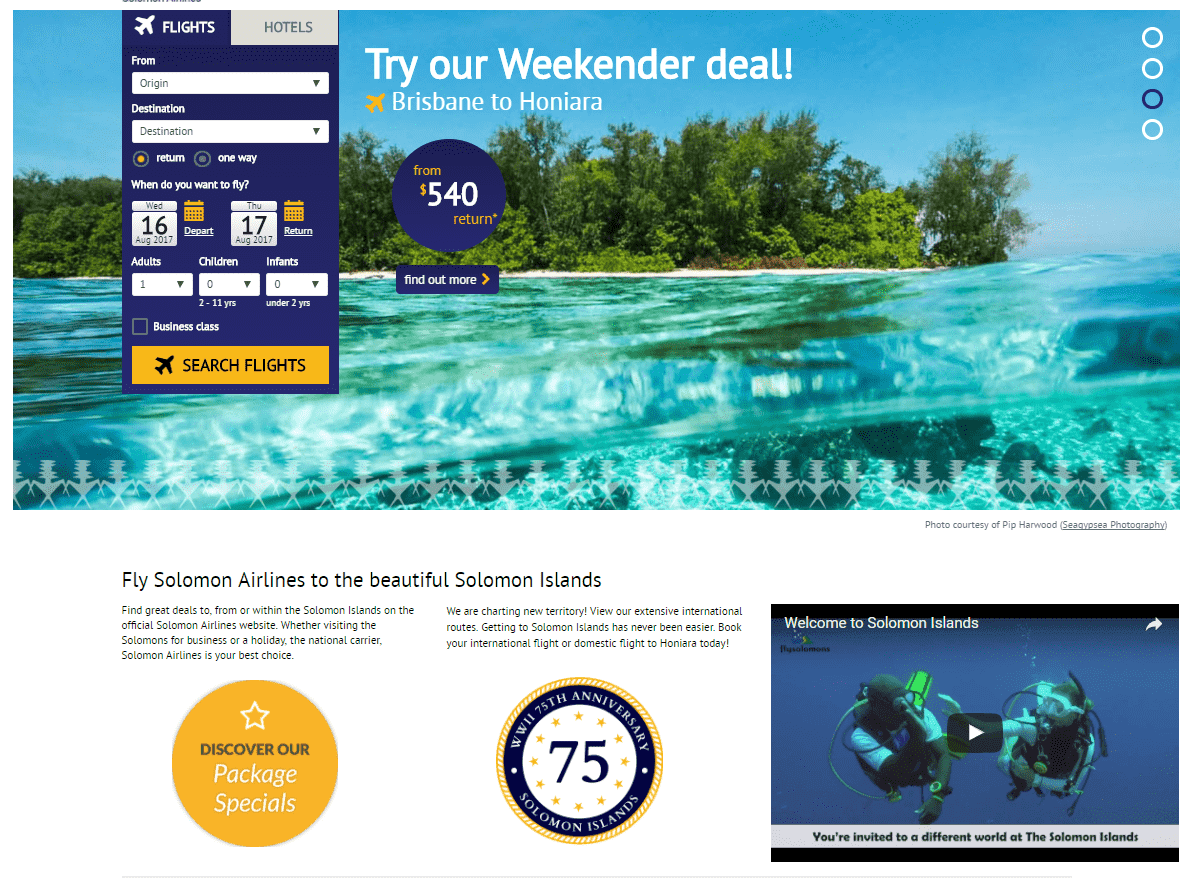 The technology being utilised for the upgraded booking system is based on Amadeus' e-Retail DX platform, the most widely used and up to date online booking engine now available on the international aviation scene.
Announcing the launch, Solomon Airlines' Manager – Commercial, Colin Sigimanu said a major benefit of harnessing the latest in new generation technology was intended to improve both usability and a far better experience for customers accessing the website for flight and product shopping.
"Our website offers much easier navigation and far more visible information to intuitively guide customers in the flight and booking process," Mr Sigimanu said.
"Add to this it provides a quicker booking flow (four steps versus the previous five) and a far more persistent 'shopping basket' allowing customers to refer to their selected flights.
"Add to this, the website is far more user-friendly for those of our passengers with disabilities via the inclusion of US DOT regulations and Website Content Accessibility Guidelines (WCAG).
"We have also made it easier to find location-based content and promotions which mean a passenger travelling from Brisbane can easily find any specials before they book while passengers travelling from Honiara can also locate deals originating from the Solomon Islands just as readily."
The website also highlights the expanded routes and international destinations now serviced by Solomon Airlines and its codeshare partners including Qantas Airways, Air Niugini and Air Vanuatu.
In addition, the website provides travellers with information on the Solomon Islands and the multitude of ever-increasing travel and holiday opportunities the destination offers international visitors.
"Our website will ensure that we can meet our customers' ever-evolving expectations as we move together into the future," Mr Sigimanu said.
Related News Items
Get the latest updates straight to your inbox