Solomon Airlines returns to Sydney
---
Posted on June 03, 2015 at 04:00 PM in General News
---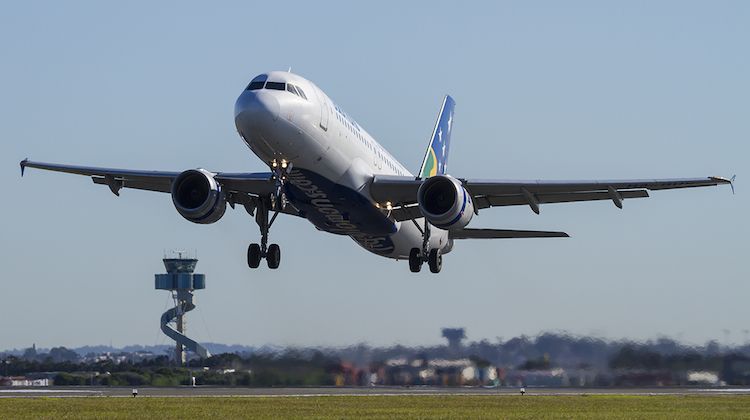 Solomon Airlines has commenced once a week Honiara-Sydney service with Airbus A320 aircraft, returning to the Harbour City after a 14-year absence.
The inaugural flight IE710 landed at Kingsford Smith on Monday evening, with the leased A320 H4-BUS overnighting at the airport before returning home as the reciprocal IE711 on Tuesday morning.
Sydney is the carrier's second Australian port and builds on its current four times a week service between Brisbane and Honiara. Solomon Airlines last served Sydney in 2001.
Solomon Airlines is hoping to grow tourism traffic to the country from Australia with the new service and has spent the week leading up to the first flight undertaking a number of events in Sydney and Brisbane in partnership with the Solomon Islands Visitors Bureau (SIVB).
This has included travel agent workshops, lunches and a number of cultural shows at prominent sites such as Sydney's Circular Quay, where a troup of Hageulu Panpipers from Isabel Province danced and sang with the Harbour Bridge in the background.
SIVB chief executive Josefa Tuamoto said growing tourism was a priority for the Solomon Islands government.
"Tourism has always been a 'pillar' for economic growth in the Solomon Islands but until now it has just been a 'pillar on paper', there has been no real resource placed behind it," Tuamoto said in a statement.
"But now things have changed and for the first time, the Solomon Islands government is serious about tourism and is putting resources into it."
Solomon Airlines general manager of operations and commercial Gus Kraus told Australian Aviation in February the A320, a 23-year-old aircraft that rolled out of the Airbus factory in early 1992 and previously flew with Canadian Airlines and Air Canada, among others, was due to be returned to lessors by the end of 2015.
The end of the A320's lease would give the government-owned airline an opportunity to upgrade to a newer aircraft and potentially add a second narrowbody to the fleet in order to grow the Sydney route.
"As everybody knows when you put one flight a week it doesn't get you too far," Kraus said.
"So the idea would be to see if we can bump up that route quickly so that we can add a beginning of the week and the end of the week so we can grow the market a bit further."
While the A320 was used internationally, Solomon Airlines operated Dash 8-100 turboprop services on domestic routes, including to remote communities and unpaved airstrips.
Article by: Australian Aviation
Source: https://australianaviation.com.au/2015/06/solomon-airlines-returns-to-sydney-after-14-year-absence/
Photo by: Seth Jarwoski
Related News Items
Get the latest updates straight to your inbox