Solomon Airlines Upgrades Domestic Pilots Skills
---
Posted on August 14, 2015 at 02:46 PM in General News
---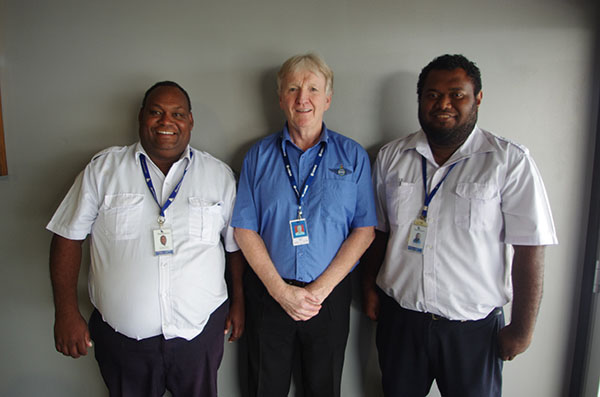 Pictured (from left to right) Captain Cornelius Vonseu, CAASI FOI-Flight Operations Inspector and trainer, Captain Gerard Rea and Captain Steven Aumanu
Honiara, Solomon Islands - Solomon Airlines has congratulated Captains Cornelius Vonseu and Steven Aumanu following the successful completion of both pilots Instructional Techniques Course via the assistance of CAASI Instructor, Captain Gerard Rea.
Conducted in the Solomon Airlines training facility at Henderson Airport, the qualification is seen as instrumental in Captain Vonseu achieving his D category Flight Check approvals for flying the carrier's Twin Otter aircraft.
This means he will now be qualified to act as a Twin Otter training Captain, assisting Chief Pilot Captain Geoff Posala in his role as currently the only Check & Training pilot in the airlines' domestic fleet.
Similarly, Captain Aumanu will achieve the same category and as a result eventually qualify as the second Check & Training pilot for both the airline's Twin Otter and Islander aircraft.
Speaking at a ceremony to mark both captains' achievements, CAASI director, George Satu said it was gratifying to see Solomon Airlines putting a much improved training regime in place for its domestic operation and as a result, see pilots better performing their duty of responsibility under the guidance of Chief Pilot, Captain Geoff Posala.
Solomon Airlines CEO, Captain Ron Sumsum said the airline was extremely proud of its newly up-skilled Captains.
"I am especially happy with this outcome," Captain Sumsum said.
"While it has taken a while to plan and finally implement this Instructional Techniques course and as a result, review our current strengths within the ranks, this is just the beginning of a rebuilding of our domestic pilots operational capabilities.
"Naturally, we want to see further upgrades of all our Solomon Islands pilots and in order to achieve this, we are working with the regulator to find solutions to the upgrades required.
"This will enable us to move from a Part 135/125 aircraft (Islander and Twin Otter aircraft) to the Part 121 fleet of the Dash8 and Airbus.
"We are on the right trajectory and hopefully, within a medium period of time, we will see more achievements by our team."
Released on behalf of Solomon Airlines by Mike Parker-Brown
Related News Items
Get the latest updates straight to your inbox