Solomon Airlines completes new hangar extension
---
Posted on September 15, 2015 at 09:50 AM in General News
---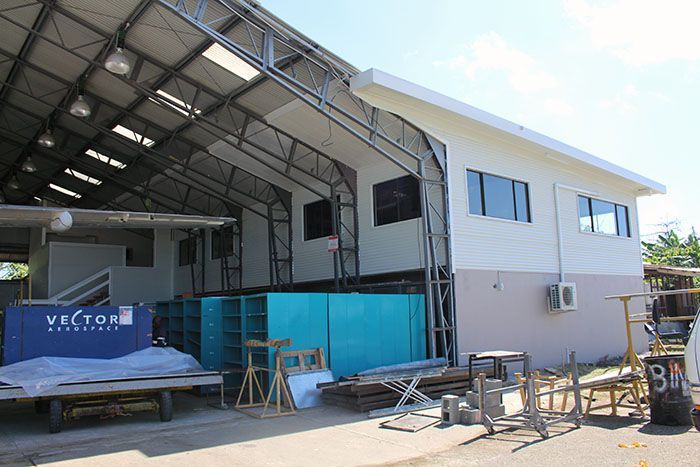 Honiara, Solomon Islands – A key component of Solomon Airlines 2014-2016 company business plan, work on the engineering hangar extension at Honiara International Airport has been completed well ahead of time.
In keeping with airline management's resolve on building the Maintenance & Airworthiness Department to meet both regional and world standards, the top floor of the building now boasts a state of the art training room fully equipped with back up internet and power capabilities.
In addition to the training room, the top floor also houses the Quality Assurance (QA) Office, Technical Record Office, a designated archive room, the Maintenance Control Office and Engineering Manager's Office.
A boardroom has also been added for department meetings complete with kitchen facilities.
The ground floor meanwhile has been taken up by the new and improved Technical Stores and Supplies Department, designed and built to improve efficiency of aircraft parts movement, tracking of tools and test equipment and technical stores auditing.
The lower level also houses a new tool room and tyre bay where spare serviceable wheel assemblies and tyre skins are kept.
Initially identified in 2011 as an area where work needed in order to improve facilities in order to accommodate a Dash8 aircraft as well as assist in safely maintaining the other aircraft in the domestic fleet - two Twin Otters and two Islanders – the first phase of the hangar extension was completed during Solomon Airlines' 50th anniversary celebrations in 2012.
Further renovations on the east wing of the hangar commenced in the first quarter of 2015 in order to accommodate stores, technical staff, the publications division, maintenance controller and manager as well as the quality assurance team.
This entailed pulling down the old offices and adding an extension to the building's east wing, the end result enabling total office space to double in size both upstairs and downstairs.
All the sections housed within the extended hangar are seen as playing a vital role in the airline's key business of keeping planes safe in flight and on the ground.
Released on behalf of Solomon Airlines by Mike Parker-Brown
Related News Items
Get the latest updates straight to your inbox