Solomon Airlines, Air Niugini and Air Vanuatu Tripartite Codeshare to Commence 01 July 2016
---
Posted on June 28, 2016 at 10:43 AM in General News
---
Honiara, Solomon Islands – Effective 01 July 2016, Solomon Airlines, Air Niugini and Air Vanuatu will commence operation of a long awaited codeshare service linking all three destinations.
The new service will operate from Port Moresby to Honiara on Fridays, Sundays, Tuesdays and Thursdays.
Ex-Honiara the codeshare service will operate from Honiara to Port Moresby on Saturdays, Mondays, Wednesdays and Fridays.
The codeshare also extends to a weekly Honiara-Port Vila-Honiara service into Bauerfield International Airport, Port Vila, operating ex-Honiara on Tuesdays and returning to Honiara on Wednesdays.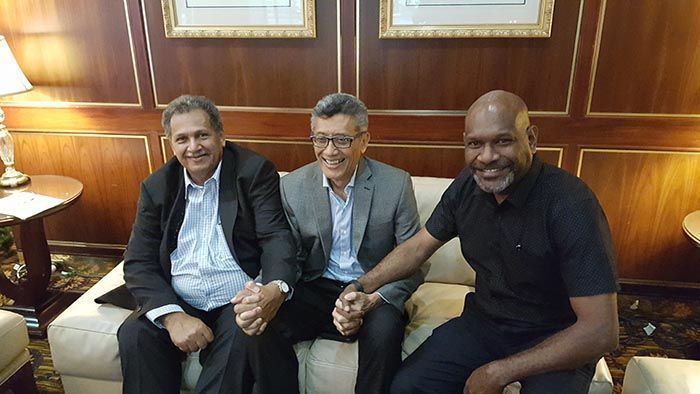 Above: Hand in hand in at the official signing of the codeshare agreement last year, (from left) , Air Vanuatu CEO, Joseph Laloyer, Air Niugini CEO, Simon Foo and Solomon Airlines CEO, Captain Ron Sumsum
Solomon Airlines General Manager Operations & Commercial, Gus Kraus said the benefits of all three airlines working in unison presented a major boost for the Melanesian region's tourism and business aspirations.
"This codeshare agreement can also be seen as a considerable advancement of the ideals contained within the Melanesian Spearhead Group (MSG) mandate and will play a key role in further promoting MSG principals," Mr Kraus said.
For further information contact Solomon Airlines Honiara Travel Centre, telephone + 677 20152 or Solomon Airlines Australian Offices on + 61 (0) 7 3860 5883.
Related News Items
Get the latest updates straight to your inbox