Solomon Airlines steps in to help with delivery of vital hospital equipment donation
---
Posted on August 03, 2017 at 04:00 PM in General News
---
Honiara, Solomon Islands – Solomon Airlines has played a major role in enabling a donation of much needed medical equipment to reach the National Referral Hospital in Honiara.

The donation, which includes a vital bacterial incubator, is thanks to the efforts of a Brisbane-based medico, Dr Claire Heney along with Brisbane-based Sullivan Nicolaides Pathology staffers, scientist Wendy Jackson and Dr Michael Harrison, who was alerted to the closure of a fully functional laboratory in the Queensland capital.

Rather than see the equipment, including refrigerators, a water bath, computers, printer, scanner and chairs, simply discarded, Dr Heney and the Sullivan Nicolaides Pathology staffers with the help of colleagues at Brisbane's Biotech Laboratories organised for the equipment to be packaged and donated to the National Referral Hospital.
Contact was made with Solomon Airlines which readily agreed to assist with the free of charge uplift of the close on 400 kilos of equipment arriving in Honiara last week.
Solomon Airlines CEO Brett Gebers accompanied by the airline's Manager – Commercial, Colin Sigimanu were on hand to supervise the delivery and help with its installation.
The hospital's Head of Microbiology, Hilda Zoleveke said while most of the equipment will be used in the microbiology section, one fridge will be used to store specimens in the biochemistry lab, the water bath will be used by the haematology section while the computers and printer will benefit everyone.
"The Microbiology lab has transformed and our need for years has been met," Ms Zoleveke said.

"We have shared fridges with other departments and the incubator, vital for growing bacteria in at a correct temperature and environment, and fridges have been cleaned and are already functioning.

"Thank you to everyone involved for this great help for our Nation."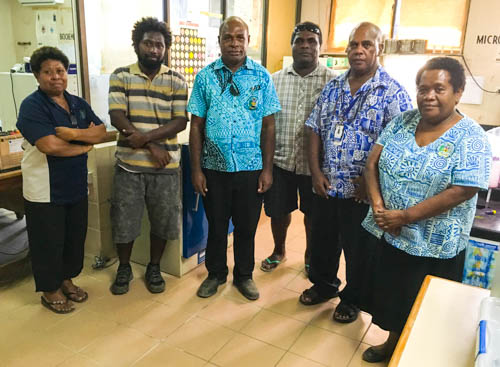 Pictured second from the right, Solomon Airlines' manager – commercial, Colin Sigimanu along with technicians and senior staff from the National Referral Hospital (from left to right): Head of Microbiology, Mrs Hilda Zoleveke, Mr Joseph Ghidu, Mr Alfred Dofai, Mr. Donald Tahani and Mrs Violine Aruafu.

Released on behalf of Solomon Airlines by Mike Parker-Brown
Related News Items
Get the latest updates straight to your inbox