Solomon Airlines Supports Athletes with Pacific Games Charters
---
Posted on June 19, 2015 at 02:39 PM in General News
---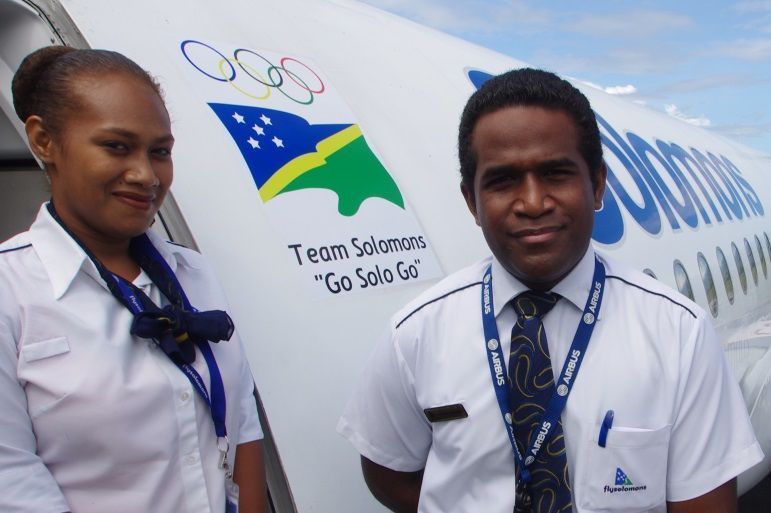 Solomon Airlines today announced that it has been engaged by both the Solomon Islands Government through the Ministry of Home Affairs looking after Sports via NOCSI and Kiribati National Olympic committee on a series of charter flights to ferry athletes of both countries to Port Moresby and back for the Pacific Games next month. This will mean there will be some effects of changes to international flight schedules especially the Brisbane and Vila/Nadi flights.
The initial chartered flights will commence on July 1st for the Kiribati Team which will also help to take our National under 23 Soccer team followed by two other charters for Team Solomons on July 2nd for the forward legs with a further flight on the July 9th whilst return flights commence on the 16th and 19th respectively to take all the teams back home to Solomons and Kiribati.
In fact, the Airline says it has already placed a decal on the side of the BUS-Airbus A320 aircraft in support of "Team Solomons" to the Pacific Games which has been a welcome gesture fully supported by the President of NOCSI Mr. Rara and the Chef de Mission Mr. Ronald Talasasa.
A statement from the General Manager of Commercial and Operations Mr. Gus Kraus indicated that "this is a one off event and we are doing all we can to minimize effects of our schedule changes due to the charter flights therefore we are urging our valued passengers to contact our offices for updates to avoid confusions that may lead to disruptions to travel plans.
"I would like to thank our passengers for their understanding, continued support as well as their patience during the charter periods," said Kraus who added to the Team Solomons members - GO SOLO GO!
For further enquiries, please contact the following numbers; 20152, 20031 or our toll free number 177.
---
LIST OF AFFECTED FLIGHTS
| Date | Flight Number | Old Timing | New Timing |
| --- | --- | --- | --- |
| 1 Jul 15 | IE 701 | 1000 BNE - HIR 1415 | 0700 BNE - HIR 1115 |
| 2 Jul 15 | IE 700 | 1200 HIR - BNE 1615 | 1500 HIR - BNE 1715 |
| 9 Jul 15 | IE 700 | 1200 HIR - BNE 1615 | 1220 HIR - BNE 1435 |
| 16 Jul 15 | IE 700 | 1200 HIR - BNE 1615 | 1600 HIR - BNE 1815 |
| 19 Jul 15 | IE 703 | 0915 NAN-VLI-HIR 1230 | 2030 NAN-HIR 2230 (18 Jul) |
| 19 Jul 15 | IE 700 | 1330 HIR - BNE 1545 | 1730 HIR - BNE 1945 |
Related News Items
Get the latest updates straight to your inbox