How to Book Online
Step 1 - Search flights
You can purchase a ticket by using the booking panel that is displayed on the top left of every page.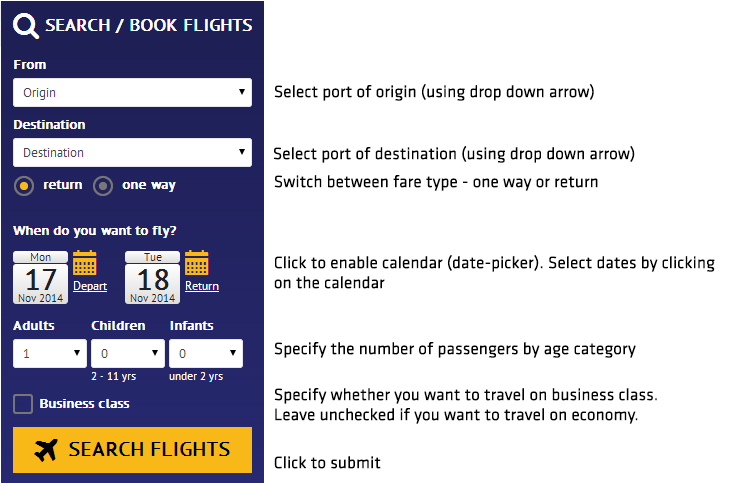 Once you are done filling your details, click on the 'SEARCH FLIGHTS' button to search for available flights.
If the rquest is valid you will redirected to the booking engine.
Step 2 - Pick travel dates
The booking engine is where you can specify further details required in order to complete the booking and ticketing process.
Upon successful request from the booking panel, the respective dates of travel which you have selected will be displayed. The booking engine will also suggest cheaper flights (within a 7 day range) which you can choose instead. Dates which are dashed out can mean that flights on that day are not operational, do not have availability, or closed because of a particular reason (e.g. boarding).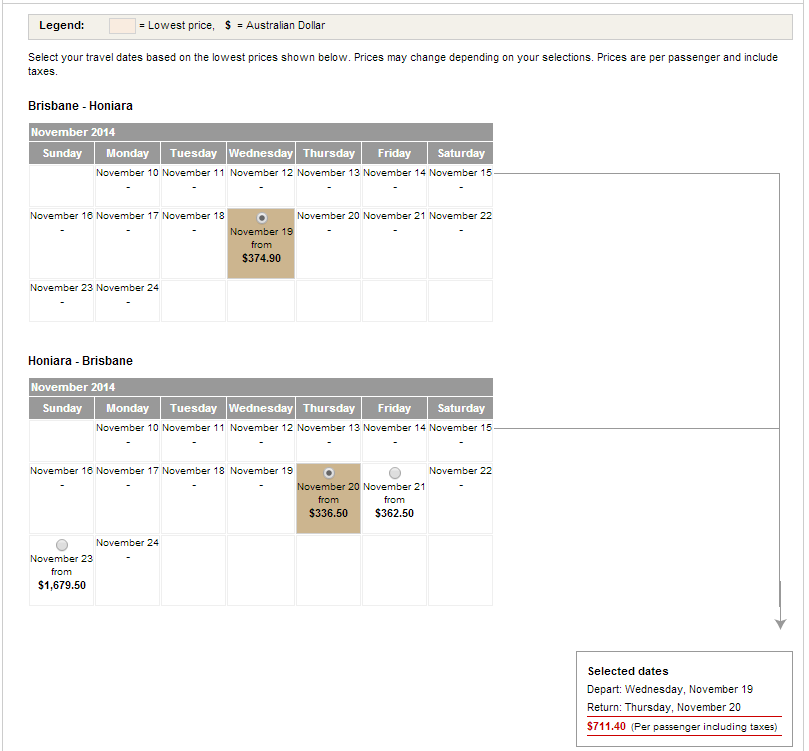 You can select different dates and compare fares by clicking on the different dates (the Totals box on the bottom right should display the appropriate fare total).
Once you are happy with your choice, click on select to continue.
Step 3 - Select Fare Type
Select your prefered fare type and then click on select to continue.
Tip: You can view more details about specific information by clicking on the links.
Tip: Use the reset display button to clear selections.
Step 4 - Review Flight Information
Verify flight details and then click on traveller details to continue.
Tip: You can use the currency convertor

to calculate the equivalent of the AUD value to the currency of your choice. The convertor is located within the price section.
Step 5 - Enter personal details
Enter your personal and contact details in the fields provided.
Click on purchase to proceed.
Step 6 - Agree and Submit
Review your flight details.
Make sure you check the I have read the flight purchase conditions checkbox.
Click on confrim trip to continue.
Step 7 - Make payment
Enter card details and then click on Submit to complete payment process.